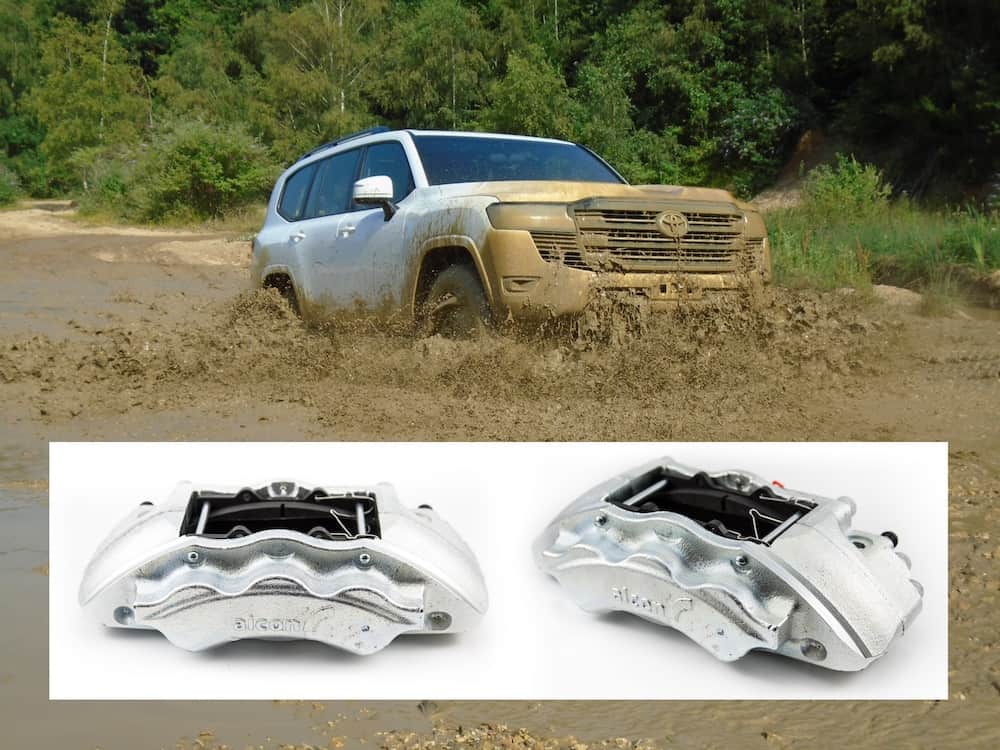 Alcon Components Ltd has delivered the first batch of new brake upgrade kits for the Toyota Land Cruiser 300 (LC300). The brake kits were dispatched from Alcon's Tamworth manufacturing facility in the UK.
Alcon launched the LC300 kits in September 2021. Since then, they have received orders from a number of the world's premier vehicle armorers who are all developing their own LC300 armored variant designs.
Launched by Toyota in June 2021, the new 300 series Toyota Land Cruiser is becoming the vehicle of choice for armored defense, security and NGO use, globally. Many major vehicle armoring companies now have an LC300 armoring development program in place to design and certify their protection systems.
Alcon are able to offer a ready-made solution for the essential brake upgrade required to accompany the weight-adding armored modifications, where the stock braking system will become challenged, affecting performance and safety.
Alcon's new LC300 kit is similar to the already well-proven LC200 kit but adapted to fit the new vehicle and engineered to match the new vehicle dynamics and the increased levels of technology and complexity present in the new Toyota base vehicle design. Fitting the brake upgrade kit will increase available brake torque, reduce brake fade and fluid vaporization, extend brake service intervals and reduce through life costs.
"We're very pleased to announce the dispatch of these new brake upgrade kits that will be a welcome addition for the entire armored vehicle market, that is currently developing and certifying their new armored Toyota LC300 designs," said Jonathan Edwards, Group Sales Director at Alcon.
"The team have developed multiple off the shelf solutions to meet the requirements of OEMs and vehicle modification companies and this new LC300 kit adds to that story. Our partners and agents are already working hard to supply our class-leading kits to the global armored vehicle markets and getting this first batch out of the door is a major milestone."
"As Alcon's premier defense and security sector agent, we see the LC300 kits building on the enormous success of the LC200 predecessor kits and have therefore placed a significant first order with Alcon," said Jonathan Simmonds, CEO of MSW Auto Spare Parts.
"Together with MSW's market leading heavy duty wheel rims and assemblies, the Alcon brake upgrade significantly increases capability but more importantly, safety as the increased weight of the armor systems changes the vehicle dynamics.
"We have supplied Alcon brake kits to all of the Middle Eastern based vehicle armoring companies for well over 10 years and this new Alcon LC300 kit will continue to deliver the quality and performance they need and expect."