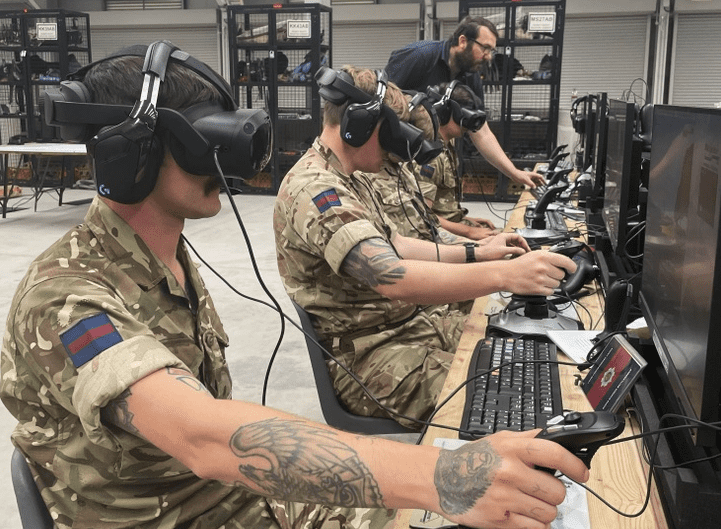 Elbit Systems UK has upgraded its Interim Combined Arms Virtual Simulation (Deployable) (ICAVS(D) system with advanced simulation software, Defence Virtual Simulation 2 (DVS2).
This is said to be the first complex British Army training capability to be fully integrated with DVS2 which utilizes Bohemia Interactive Simulations' VBS4, VBS Blue Image Generator and One World Terrain.
Elbit's deployable virtual simulator, ICAVS(D), achieved Full Operational Capability in September 2022, and has now passed acceptance testing with DVS2 by both the Land Warfare Centre and the Training and Simulation Systems Programme (TSSP) team within the Land Equipment Operating Centre at Defence Equipment and Support (DE&S), the procurement arm of the UK armed forces.
According to Elbit, the rapid integration of the software capabilities was achievable due to its open architecture system, a key feature of the ICAVS(D) platform. This allows for a system agnostic approach, supporting continuous through-life upgrades and ensuring that the British Army's capabilities keep pace with future technological developments.
Martin Fausset, CEO of Elbit Systems UK, said: "The integration of the ICAVS(D) simulator with Bohemia Interactive Simulations' software ensures that UK service personnel can train using the most up to date technology. It is more important now than ever that the Armed Forces have access to the most advanced training systems available and that is achieved when industry innovates in an agile and flexible way. The open architecture of Elbit Systems UK's combined arms virtual simulator demonstrates that."
Dan McLoughlin, Defence Virtual Systems 2 (DVS2) and ICAVS (D) Senior Project Manager at Defence Equipment and Support (DE&S), commented: "DVS2 will provide ICAVS(D) with enhanced simulation, mapping, and AI modelling, to deliver realistic, immersive training to the British Army. The use of DVS2's One World Terrain will allow ICAVS(D) users to train virtually in any part of the world from anywhere in the world. The integration of DVS2 into ICAVS(D) this early in the project's life is testament to the hard work that the Elbit Systems UK team has put in behind the scenes as well as the collaborative working relationship that is in place between both contractors, Elbit Systems UK, Bohemia Interactive Simulations and the TSSP Delivery Team – who are responsible for the delivery of both contracts to the Front Line Commands."