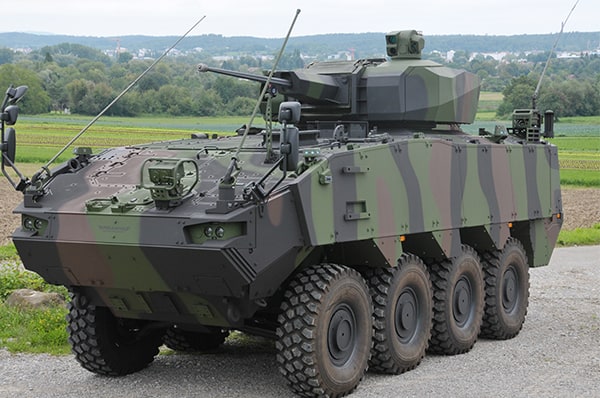 Elbit Systems Romanian subsidiary Elmet International has been contracted by General Dynamics European Land Systems (GDELS) to supply unmanned turrets, Remote Controlled Weapon Stations (RCWS) and mortar systems for the 'Piranha V' Armored Personnel Carrier (APC) of the Romanian Armed Forces.
Under the $120 million follow-on contract, Elbit Systems will supply UT30 MK2 turrets, RCWS and the SPEAR mortar systems, all fully integrated onboard the GDELS' 'Piranha V' APC. The work will be performed in Romania over a three-year period.
Bezhalel (Butzi) Machlis, Elbit Systems President & CEO, said: "This follow-on contract award is yet another vote of confidence in Elbit Systems' portfolio of solutions for armored platforms. I believe that the expansion of our integration and production capacity in Europe strengthens our ability to address the growing demand for advanced and proven capabilities for armored platforms."
Elbit Systems' UT30 MK2 is a 30mm unmanned light turret that integrates weapon systems, fire control systems, sensors and display systems for enhanced combat effectiveness, situational awareness and target acquisition capabilities.
The company's RCWS is a lightweight high accuracy 12.7mm weapon station. The SPEAR is a 120mm computerized autonomous vehicular mortar system. In addition to Romania, Elbit Systems' turrets, RCWS and mortar systems have been selected by other customers including Israel, USA, Denmark, Austria, Belgium, Brazil, and Croatia.
Manufacturers and suppliers of military armored vehicles, armored tactical vehicles and armored trucks for defense forces >>