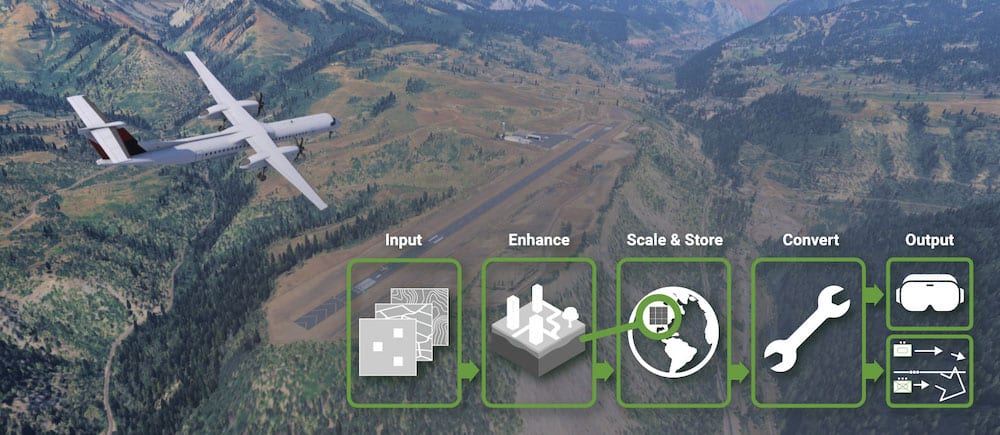 Bohemia Interactive Simulations (BISim) has launched Mantle Enterprise Terrain Management (ETM), a custom-built platform based on proven Commercial Off The Shelf (COTS) components and expert design/development services for creating simulated terrain for training, mission rehearsal, visualization and terrain analysis.
"Mantle ETM is based on the terrain pipeline work we've been doing with the US Army," said BISim President, Arthur Alexion. "We're very excited to present this technology to our entire customer base, the advantages will be truly compelling."
A Mantle ETM installation delivers a cloud-capable custom terrain pipeline that works with your data, processes, servers, and runtimes, integrating with your existing terrain capabilities or delivering a full end-to-end terrain creation and management solution from scratch. Cloud is not required for use, however; Mantle ETM can also run on an internal network
"One of Mantle ETM's use cases is taking geospatial terrain data from almost any source and providing a high fidelity, procedurally improved base globe to multiple simulations or visualization runtimes," said Earl Laamanen, TerraSim's Technical Director. "This essentially makes it an important tool for creating a Digital Twin of anywhere on Earth."
Terrain Challenges
Making terrain for high-fidelity simulation is difficult and challenging. Searching out good source data, building correlated terrain for multiple runtimes, synchronizing data between different simulation clients, storing the vast amount of source data, utilizing classified and other restricted data, and editing data 'on the fly'. Historically, these challenges have resulted in separate specialist teams building terrain data disconnected from the point-of-need users together with high costs and long lead times to obtain the required finished terrain. Mantle ETM can help solve these challenges.
Other key benefits of Mantle ETM:
Effective: Mantle ETM simplifies enterprise-wide terrain handling for simulation and visualization by providing you with a cloud-capable terrain server that can be integrated with your existing terrain capabilities.
Proven: The Mantle ETM platform is based on robust COTS components – TerraTools components (for terrain generation), VBS4's Blue Data Pipeline technology (for procedural enhancement), and VBS World Server components (terrain storage and server capabilities).
Easy-to-use: Mantle ETM is designed with accessibility in mind. Users can quickly learn to rapidly create and edit terrain on the fly with the VBS Geo editing tool, leveraging the 8,000+ 3D model content library. Edits can be stored and curated centrally.
Scalable: Mantle ETM can be deployed on the cloud or on a local network, and supports synchronization between servers.
Cost-efficient: Mantle ETM reduces the manpower needed to develop and deploy terrain by offering a high degree of automation at every stage.
Constantly enhanced: Mantle ETM components are enhanced regularly with new customer-driven requirements and significant internal investment driving feature improvements such as the curated global base data and extended support for new runtimes and streaming terrain formats.