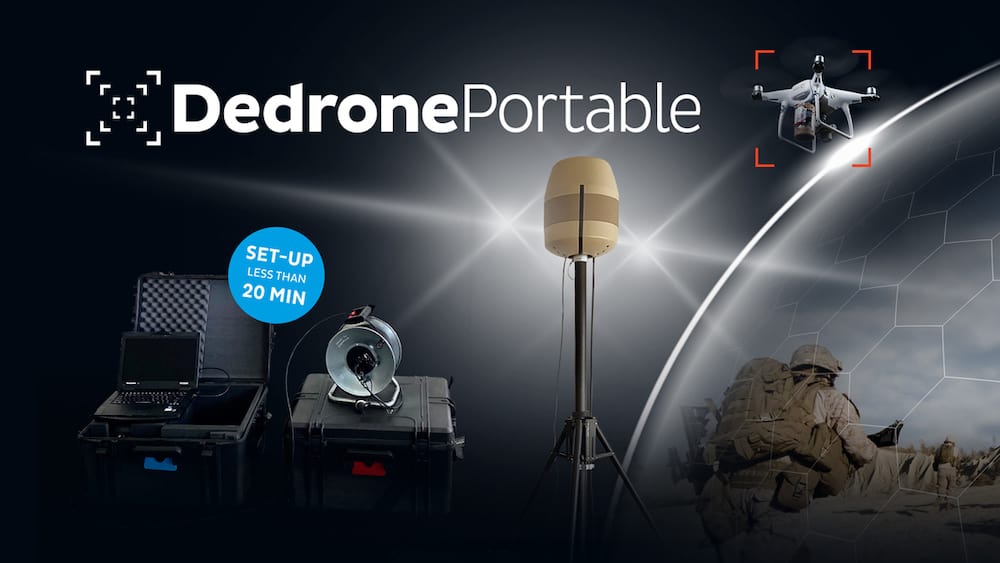 Dedrone has announced the launch of DedronePortable, its new, all-in-one kit that offers comprehensive drone detection, tracking, and identification capabilities (DTI) on the go.
Designed for militaries, government agencies, and commercial entities, DedronePortable offers the company's machine learning technology and end-to-end defeat capabilities via a system that can be set up in the field in less than 20 minutes.
The DedronePortable system can be combined with DroneDefender to DTI enemy/unauthorized drones and also deny and disrupt the RF bands used by most commercial and military drones, and across the GPS, GLONASS, BeiDou, Galileo, SBAS, and QZSS geo-location bands. These capabilities ensure that even military or homemade RC controllers, along with commercially available drones, can be detected and mitigated. DedronePortable can also be equipped with the ability to deliver disinformation to the enemy through deliberate drone spoofing capability if required for combat situations.
"Rapidly changing airspace security situations require easily-transported and -operational counter-drone systems, and DedronePortable is built to thrive in these hectic and/or temporary environments," said Aaditya Devarakonda, CEO of Dedrone. "With its robust equipment and constant technological updates, DedronePortable is poised to play a key role in current and future operations around the globe."
All required equipment including sensors, power supply, cables, a ruggedized laptop pre-loaded with the DedroneTracker and the drone identification database DedroneDNA, and more come pre-packaged in easy to transport and assemble kits.
According to Dedrone, usage of military and commercial drones has become increasingly common in military situations, including in the war in Ukraine, where drones have been used by both sides for reconnaissance, artillery target location and bombings.
"We have been working closely with the Dedrone team and have reverse engineered the RF signature of the Russian Orlan-10 drones. We are now setting up a network of sensors to further up-level our capabilities in the conflict zone," said a representative of Ukrainian military forces on the front line in eastern Ukraine. "Dedrone has been a great, agile partner to work with in real time."