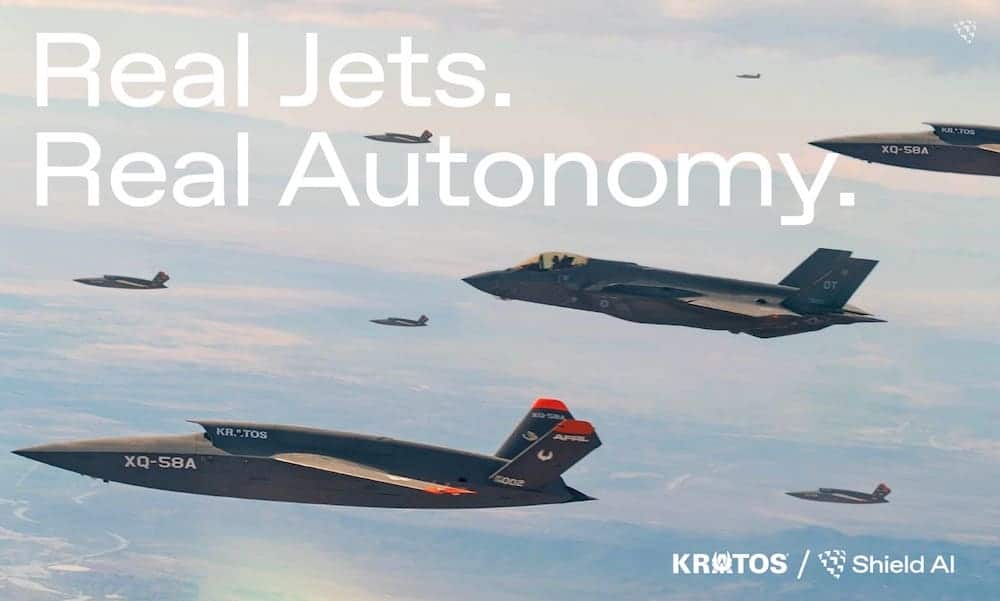 Kratos Defense & Security Solutions and Shield AI have signed an agreement to integrate and bring to market a Shield AI-built AI pilot for Kratos' XQ-58 Valkyrie drone.
Shield AI has developed a combat-deployed AI pilot that has flown on a variety of platforms, including a quadcopter, the company's own manufactured V-BAT Group 3 unmanned aircraft system, and a modified F-16 fighter jet. 
Kratos has active production lines producing approximately 150 jet drones annually, including Valkyrie, and a family of affordable, expendable, and attritable tactical jet drones flying today, including Tactical Firejet, Mako, Valkyrie and others, with multiple contracts with the US Air Force, Navy, Army, Marine Corps and others.
According to the companies, this partnership is designed to make real the concept of crewed-uncrewed teaming for jet aircraft.
"By taking the most cost-efficient, proven, existing and in production uncrewed jets, with key performance capabilities, and pairing them with the most intelligent, capable, and proven AI pilots, Kratos and Shield AI are uniquely positioned to rapidly bring the first and best crewed-uncrewed teaming aircraft to market," said Eric Demarco, CEO of Kratos.
"Ukraine is losing 10,000 drones per month due to Russian electronic warfare – primarily because the Russians are jamming communications and GPS. If an uncrewed aircraft is unable to operate without GPS and without communications, it will be near useless in future conflicts," said Brandon Tseng, former Navy SEAL and Shield AI's Cofounder and President. "AI Pilots enable teams of aircraft to intelligently execute missions without GPS and communications. When you take an incredible, affordable uncrewed jet aircraft like the XQ-58 and pair it up with our AI pilot, you create a game-changing strategic deterrent."
"The Valkyrie is one of a very few number of uncrewed jet aircraft that are flying today, ramping in production, and are ready for AI pilot integration," said Ryan Tseng, Shield AI's Cofounder and CEO. "Close integration and access with Kratos on the XQ-58 will enable the productization of intelligent uncrewed jet aircraft on a timeline that is, quite frankly, going to shock some people. Ultimately our AI pilots will be flying many uncrewed jet aircraft, but I can't think of a better uncrewed jet to start with than the Valkyrie."