Crystal Group has released a case study detailing its involvement in the US Army's Prophet program with General Dynamics C4 Systems.
Download the case study from the Crystal Group website.
General Dynamics C4 Systems was chosen by the US Army as the prime contractor and systems integrator for upgrades to the Prophet tactical signals intelligence program.
The Challenge
Prophet's mission requires an evolving technological platform that can be adapted to changing battlefield situations and transportation needs. Project leadership sought proven technology and dependable device management to be able to respond quickly as program elements change.
The Solution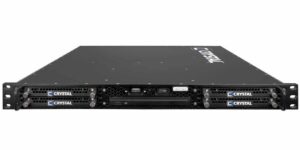 General Dynamics C4 Systems chose Crystal Group's RS112 1U for upgrade projects based on past performance and reliability of the company's rugged servers. Crystal Group's responsiveness, fast turnaround time, and extensive configuration management were also important determining factors.
Benefits
Improved SWaP provides less weight, less power consumption, and smaller form factor size
Device ruggedness, reliability and dependability
Configuration flexibility
Low maintenance
Responsive customer support