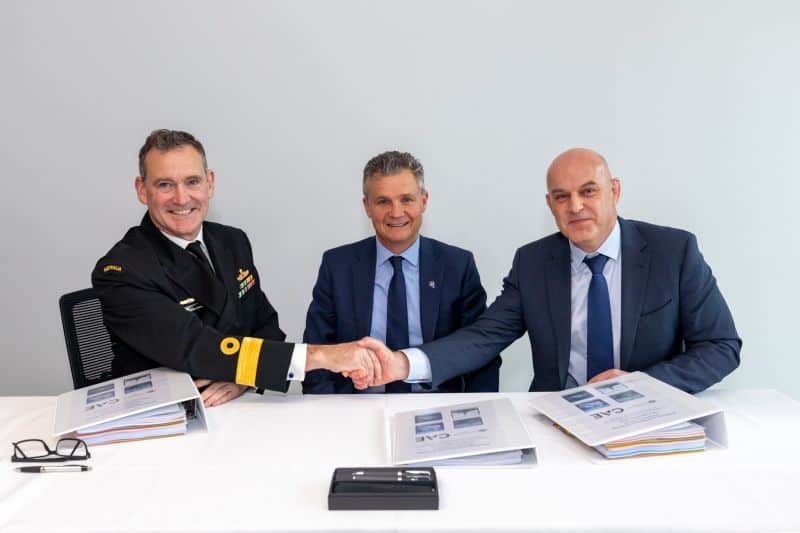 CAE Australia Pty Ltd. has been awarded the Platforms and Systems Training Contract (PSTC) by the Royal Australian Navy (RAN) to deliver improved quality, efficiency, modernization, and remote capability in training.
Under this new five-year agreement, CAE Australia will support the transformation of future training delivered to mariners across the Canberra Class Landing Helicopter Dock (LHD), Hobart Class Destroyer (DDG), Supply Class Auxiliary Oiler Replenisher (AOR) and Huon Class Minehunter Coastal (MHC).
According to CAE, its innovative solution will enable the RAN to accelerate training throughput and enhance delivery of sustainable distributed training on-site, in port, and at sea.
CAE Australia, the prime contractor leading the program, will leverage the expertise of Australian Industry partners Navantia Australia, UNSW, 3by3 Solutions, and MMCLD to present a diverse, innovative, and enduring enhancement to naval technical training.
The training systems integration will align the training program, assets, and operations to ensure 110+ foundation, operator, and maintainer courses are delivered efficiently and effectively, whilst innovation opportunities are explored and developed.
"CAE is humbled by the trust and confidence displayed by the Commonwealth through the award of this contract to transform and deliver training," said Matthew Sibree, Managing Director, Indo-Pacific, CAE Australia Pty Ltd. "The Royal Australian Navy has developed the Navy Mastery Model to shape the process of learning for future mariners, enabling them to achieve competency and to fight and win at sea. CAE is privileged to be contributing to Maritime, Social, and Technical Mastery through the delivery of the Platforms and Systems Training Contract. Together with our team of partners, we are empowering the next generation of mariners through professional training supported by a vision to increase agility and efficiency."