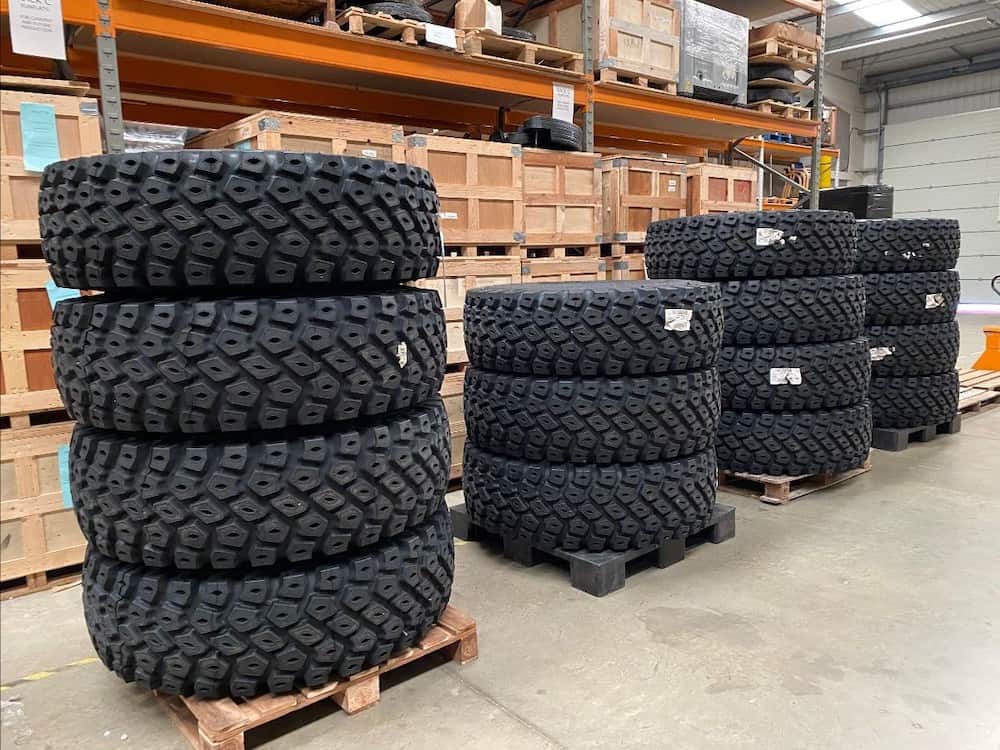 Tyron Runflat Ltd has started delivering the second batch of wheel/tyre/runflat assemblies for the U.K. Ministry of Defense (MoD)'s Ridgback and Mastiff vehicle upgrade program. The first batch was delivered for the program in early 2021.
Under the MoD's Protected Mobility Engineering & Technical Support (PMETS) contract, NP Aerospace is re-engineering Ridgback and Mastiff vehicles to improve their off-road mobility performance, enhance safety and introduce new capabilities. Improvements being carried out on the fleet include installing an industry package of equipment, such as new independent suspension systems incorporating Ride Height Control, upgraded driveline, steering and braking systems, central tyre inflation systems, and increased diameter tyres.
Tyron is responsible for delivering the entire wheel assemblies to NP Aerospace for the upgrade, consisting of its All-Terrain Rubber Multi-Piece (ATR-MP) runflat and the new Michelin X Force ZL16.00r20 tyre, which has a new deep, open tread pattern and shoulders to maximize traction. Tyron is the first company in the U.K. to take delivery of this new tyre and integrate it into the wheel assembly.
The ATR-MP contributes to increased mobility and safety for the Ridgback and Mastiff vehicle fleet, while also supporting simplified logistics in the field. As a multi-section runflat, the ATR-MP does not require any special tools or a hydraulic press to insert and remove the runflat when replacing the tyre, as is the case with single piece alternatives.
Tyron's ATR runflats are designed to maintain vehicle mobility and safety during and after tyre deflation, whether due to ballistic attack, blowout, or puncture, allowing the driver and crew to continue the mission safely and return to base. The runflat guarantees beadlock, which prevents the tyre spinning on the wheel when deflated, enabling the vehicle to continue moving at speed in full compliance with on and off-road Finabel standards. The system is fully compatible with CTIS and standard wheels.
"This new batch of assemblies, incorporating the new Michelin tyre with the ATR-MP will deliver improved mobility and safety for the Ridgback and Mastiff vehicle fleet in support of Operation NEWCOMBE in Mali," Peter Simson, Director, Tyron Runflat, said. "We are pleased to be part of this industry team delivering an improved capability for British forces operating the Ridgback and Mastiff vehicle fleet."