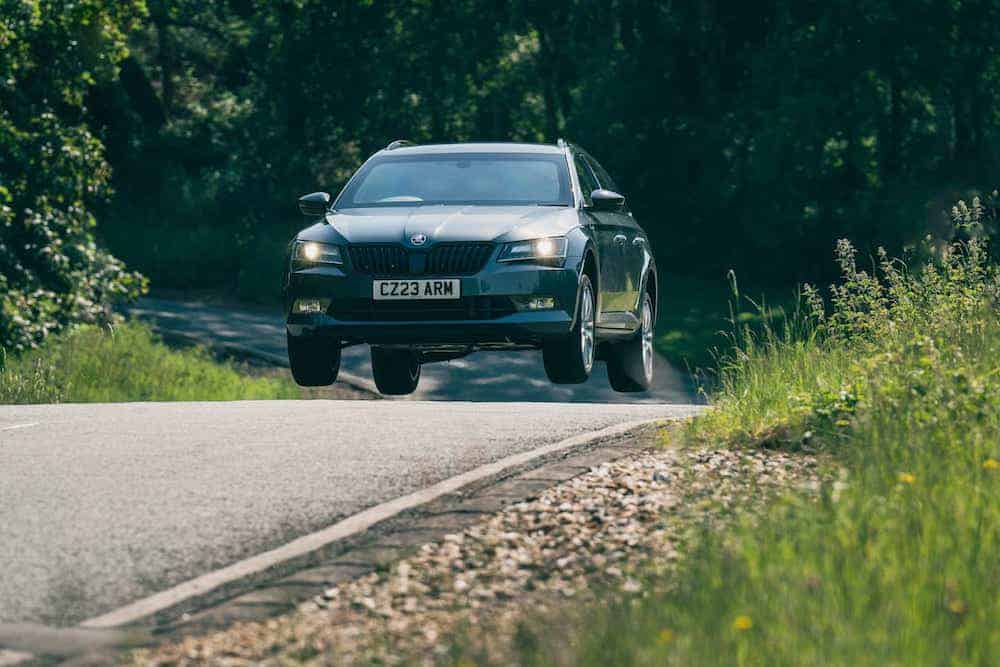 Alcon Components Ltd has supplied a bespoke braking system to UTAC Special Vehicles (UTAC SV) for use on their armored Ŝkoda Superb. Alcon's bespoke braking system comprised of upgraded front calipers, rotors and pads. 
The upgraded braking system was required due the increased vehicle weight with added armor, meaning that the disc temperatures and pad work rates for the standard brakes would be too high causing brake fade, fluid vaporization and accelerated disc and pad wear. The armored Škoda also needed to pass the 30 stop National Association of Police Fleet Managers (NAPFM) test.
The bespoke designed brakes have reduced pad work rate by around 30%, disc temperature rise by around 14% and increased available brake torque by up to 24%. The calipers are zinc plated to look like normal OEM brakes in order that vehicles can be discrete and not look uprated. As with all of Alcon's armored brake designs, the calipers include special features such as having the bleed screws on the inboard half only, to make them tamper-proof. Finally, the original calipers were single sided, requiring less space outboard in the wheel than opposed piston calipers. Therefore, Alcon had the challenge of packaging an opposing piston system that would give the required improvements yet fit within a challenging installation space.
UTAC SV's armored Ŝkoda Superb was developed as a joint project between Ŝkoda UK and UTAC SV, who developed the concept largely using their facilities at the former Millbrook (now UTAC Millbrook) proving ground. The first vehicle entered service in 2018, and almost 500 have since been built – deploying to both UK right-hand-drive markets and in left-hand drive elsewhere. The armored Superb is certified to PAS 300 and tested to PAS 301 Civilian Armored Vehicle levels. The PAS 301 standard also sets acceleration, maximum speed, handling, braking and payload criteria – all part of the design brief against which Alcon delivered the braking system. In addition to the Škoda Superb system, Alcon is also supplying braking systems for other armored vehicle types manufactured by UTAC SV.
Kirsty Andrew, Managing Director at UTAC Special Vehicles. said: "Our armored Ŝkoda program presented some challenging braking requirements that we knew could be addressed by working with Alcon – a long time and trusted supplier of ours. The engineering solution is simply first class and helps make our vehicle compliant with the challenging requirements of our customers and most importantly, safe. Alcon have worked closely with us across a demanding production program, to help us deliver a first-class product to our customers."
Alistair Fergusson, Group Managing Director at Alcon, said: "We were delighted when UTAC SV turned to us for help on their armored Škoda Superb program. We have a successful history of working together on multiple projects and we were able to, yet again, deliver a bespoke braking system that exceeded their requirements. We have worked extremely hard to develop the defense and security side of our business in order to meet the requirements of armored OEMs and vehicle modification companies, across the globe. The continuing strength of our world-wide sales confirms that Alcon brakes meet the necessarily demanding requirements of the defense and security armored vehicle sector as well as other specialist users, such as the emergency services."