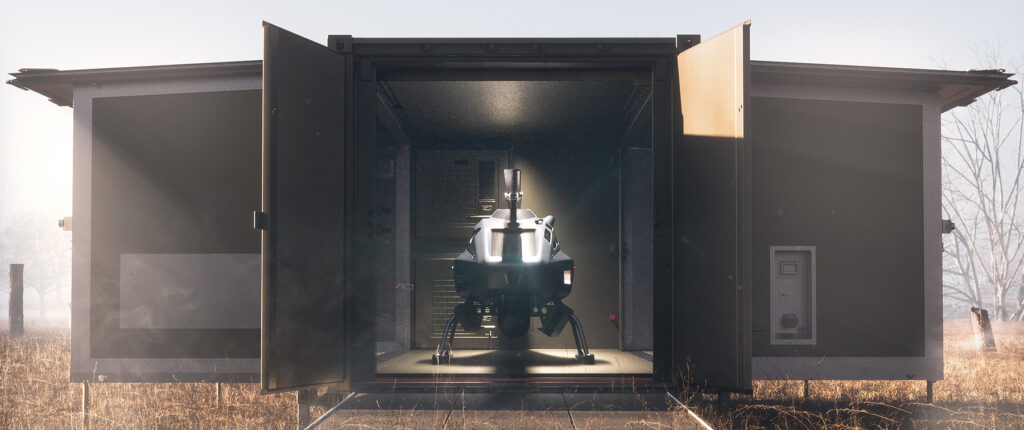 UMS SKELDAR and Marshall Land Systems have joined forces to present the market with an expandable container solution to support the long-term deployments and operation of rotary uncrewed aircraft.
Unveiled at Defence and Security Equipment International (DSEI) 2023, the Battlefield Deployable Uncrewed Aerial Solution (BDUAS) sets a new industry standard, offering unprecedented functionality, versatility, and mobility while maintaining a minimal logistical footprint for the end-user.
The standardized, modular BDUAS containers offer an all-in-one approach to dynamic field deployment, providing highly mobile transport and storage of UMS SKELDAR's Unmanned Aerial Systems (UAS), as well as a maintenance and workshop area and a dedicated second Remote Piloting Station (RPS).
BDUAS containers have been engineered by Marshall Land Systems to meet both defense and NATO Standards while still adhering to global ISO container specifications. This compatibility allows for seamless transportation over air, land, road, and rail, ensuring easy access to any location – including transfer between naval and land domains.
Due to their modular nature, the containers can be rapidly reconfigured for deployment in extreme conditions, including environments with temperatures ranging from -32C to +49C as a baseline, with options available to extend to -51C to +55C if required. Preservation and enhancement (Pre En) capabilities are also built in as standard.
Gary Moynehan, Managing Director at Marshall Land Systems commented: "We are proud to have developed this uniquely capable containerized UAS with UMS SKELDAR. By combining our expertise, we have created a game-changing product that expands the options for military operations. BDUAS is hugely significant for critical applications like border inspection in Central Eastern Europe, where real-time intelligence is of paramount importance, as well as ISR operations on both land and sea worldwide. The versatility and rapid deployment capabilities of BDUAS will greatly enhance the efficiency and effectiveness of defense operations."
UMS SKELDAR's VP of Business Development, Richard Hjelmberg added: "We are thrilled to be part of this revolutionary endeavor, leveraging our strategic partnership with Marshall Land Systems to deliver a product that will set a new benchmark in the industry. Upon full deployment, the BDUAS container provides a well-designed layout, including ample storage space in the middle, a repair workshop on one side, and a ground control station or piloting station on the other. The re-expandable container is a testament to our dedication to innovation and our commitment to equipping armed forces with cutting-edge solutions."
Find suppliers and manufacturers of Rapid Deployment Shelters and Solutions >>