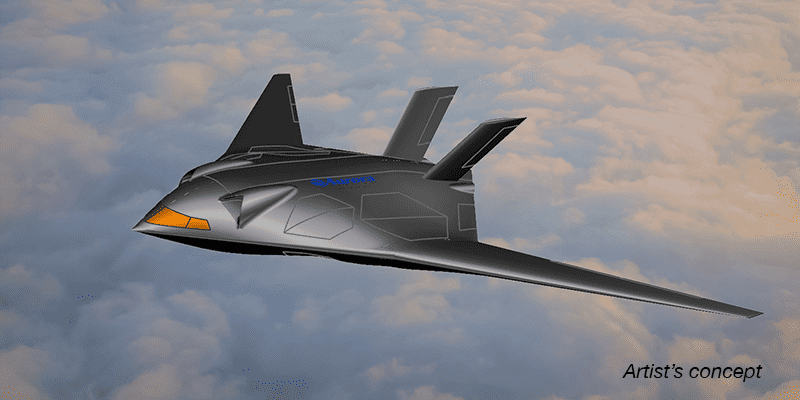 Aurora Flight Sciences, a Boeing Company, has been selected for phase 1 of the Defense Advanced Research Projects Agency (DARPA) SPeed and Runway INdependent Technologies (SPRINT) X-Plane Demonstration Project. 
This project aims to design, build, and fly an X-Plane to demonstrate technologies and integrated concepts necessary for a transformational combination of aircraft speed and runway independence.
This initial award funds work to reach a conceptual design review and includes an executable option to continue work through preliminary design review.
Under this award, Aurora is designing a high lift, low drag fan-in-wing (FIW) demonstrator aircraft that integrates a blended wing body platform, with embedded engines and moderate sweep, with a vertical flight design comprised of embedded lift fans linked to the engines via mechanical drives.
The aircraft would deliver game-changing air mobility capability by combining cruise at over 450 KTAS with vertical takeoff and landing (VTOL) in a single platform.
The combined Aurora and Boeing team brings deep experience in agile vehicle prototyping, vertical lift and cruise transition technology, and blended wing body aero performance.
The program will build on past flight programs like the Boeing X-48 blended wing body aircraft and the Aurora Excalibur UAS that combined jet-borne vertical lift with three electric, louvered lift fans that would retract into the wing in forward flight.
Design work will take place at Aurora and Boeing facilities across multiple states including Virginia, Massachusetts, and Pennsylvania. The program is targeting first flight of the X-Plane demonstrator within 42 months.
"Aurora and Boeing are excited to work with DARPA to develop this revolutionary capability," said Larry Wirsing, vice president of Aircraft Development Programs at Aurora Flight Sciences. "This X-plane will demonstrate that a high-speed, vertical lift, blended wing body aircraft will provide superior flexibility and operational performance to the military in the future."