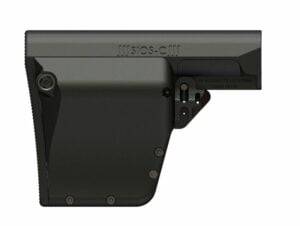 VK Integrated Systems (VKIS) explains how its SIOS-C, an integrated electronics buttstock, can enhance situational awareness on the battlefield by providing real-time information about the location and engagement direction of team members.
---
In the world of military operations, situational awareness stands as a decisive factor for a soldier's success in the mission.
The ability to assess, comprehend, and respond to the surrounding environment is crucial for making split-second decisions and ensuring the safety and success of a soldier's team on the battlefield.
To help fill in the gaps when radios fail and line of site is not possible, the VK Integrated Systems team developed the SIOS-C, an integrated electronics buttstock, to help keep your team informed.
This innovative sensor buttstock integrates seamlessly into the Android Team Awareness Kit (ATAK) and is designed to enhance situational awareness by providing real-time information about the location and engagement direction of your team members; thereby fostering cohesion and enabling efficient command and control during intense scenarios and large-scale operations.
Equip your soldiers and integrate weapon tracking technology into your mission planning to ensure swift results, empowering leaders in the most stressful of situations.
Unveiling the SIOS-C Capabilities
The SIOS-C is a state-of-the-art buttstock meticulously engineered for use with any six-position buffer tube. Equipped with advanced electronics and cutting-edge features, this stock sets a new standard in situational awareness for soldiers.
Let's explore its specifications and practical applications:
1. Maintaining Cohesion during Intense Scenarios:
During high-intensity operations, maintaining cohesion within a team is critical. The electronic rifle stock plays a vital role in this aspect by providing real-time information about the location and engagement direction of team members in ATAK.
Leaders can quickly identify the positions of their team members and the direction of engagement, even in dynamic and rapidly evolving situations.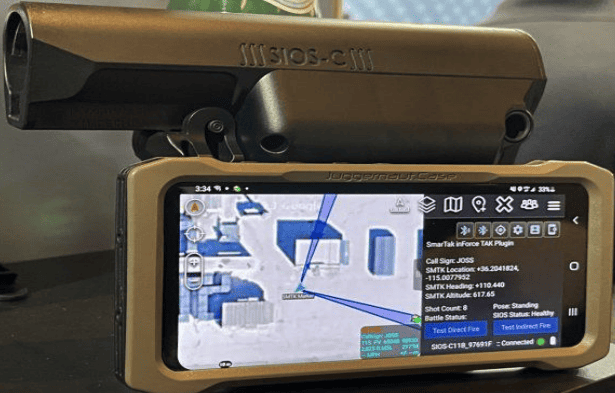 This knowledge fosters a strong sense of command and control, improves decision-making, and helps prevent friendly fire incidents. In the world of dismounted infantry operations, knowing where your soldiers are and sectors of fire lines are pivotal to operational success.
2. Efficient Command and Control in Large-Scale Operations:
In large-scale military operations involving multiple units and teams, effective command and control is paramount. The stock enables commanders to have a comprehensive view of their troops' movements and positions, thanks to the transmission of Position Location Information (PLI+) data.
With this real-time information, commanders can make informed decisions, deploy resources strategically, and adjust tactics as needed. No more do commanders need to wait for radio confirmations of Troops in Contact (TIC), as they can view the engagement cones through ATAK as it happens.
3. Enhanced Tactical Decision-Making:
Situational awareness is crucial for making informed tactical decisions. The SIOS-C's Inertial Measurement Unit (IMU) utilizes a Nine Degree Of Freedom (9-DOF) orientation sensor which captures and analyzes motion data, allowing soldiers to monitor their teams' movements and assess unit sectors of fire.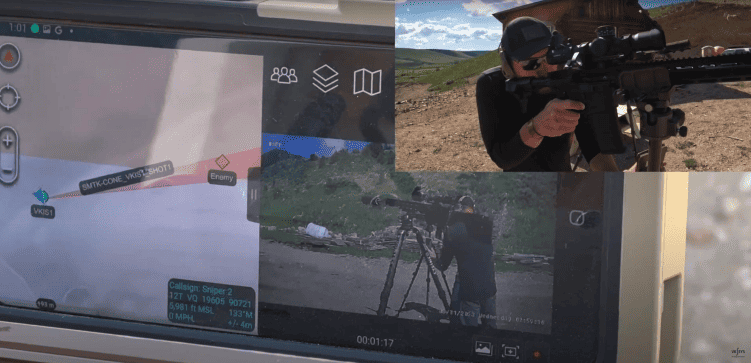 Being able to at a glance have a vast amount of information with the use of the SIOS-C, soldiers can optimize their strategies, adapt to changing circumstances, and gain a tactical advantage over adversaries.
4. Streamlined User Experience:
During intense operations, soldiers need equipment that is intuitive and user-friendly. The SIOS-C's ergonomic design ensures that soldiers can focus on the mission at hand rather than grappling with complicated accessories. Charged by a universal USB-C, the SIOS-C is low maintenance for field operations.
Its collapsible stock offers adaptability to different situations and environments, allowing soldiers to maintain comfort and control while on the move.
Conclusion
Situational awareness is the lifeblood of military operations, enabling soldiers to navigate the complexities of the battlefield and make sound decisions under pressure.
The SIOS-C enhances situational awareness by providing real-time information about the location and engagement direction of team members. VK Integrated Systems empowers soldiers and commanders to optimize their decision-making, coordination, and overall performance.
With its advanced electronics, user-friendly design, and dedication to enhancing situational awareness, the SIOS-C is a game-changer in the pursuit of high-quality military and defense technology.