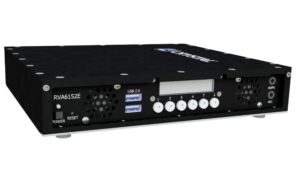 Crystal Group has released an article explaining how its ruggedized multi-4K video encoder and 4K IP KVM extender can deliver critical, real-time 4K video streaming, recording, extension, and storage with seamless accuracy in the most demanding and unpredictable operating environments.
According to Crystal Group, expanding the use of performance-media-over-IP products comes with exacting needs. Using the company's proprietary ruggedization techniques, these products meet or exceed International Electronic Commission (IEC) compliance standards, as well as MILSTD-810G, MIL-STD-461 and MIL-STD-901E.
By proactively overcoming the dynamic operating challenges and requirements—from extreme shock and vibration to dust, humidity, salt fog, and shifting temperatures—you can deploy ultra-high-definition (UHD) video capabilities and quality in any conditions.
Visit Crystal Group's website to find out more.