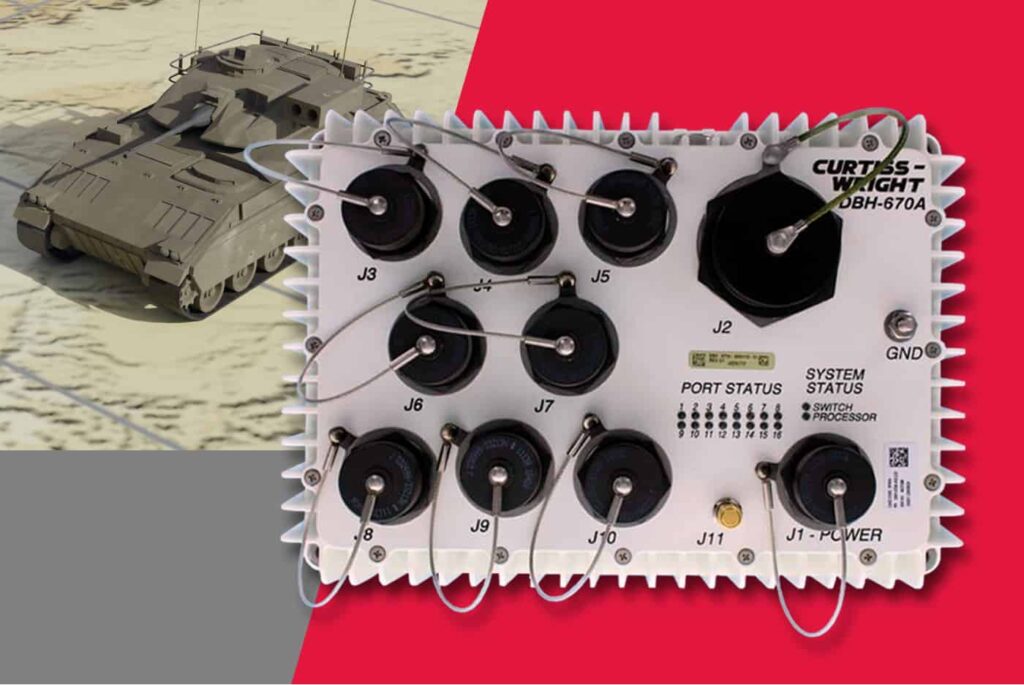 Curtiss-Wright's Defense Solutions division has further strengthened its commitment to lead the industry in delivering solutions that provide Assured-Positioning, Navigation and Timing (A-PNT) functionality to military ground vehicles.
The new DBH-670A A-PNT Digital Beachhead A-PNT vehicle computer and Gigabit Ethernet (GbE) switch uniquely integrates A-PNT functionality from complementary PNT sources into a single compact and rugged Line Replaceable Unit (LRU) that also hosts a VICTORY network switch and vehicle management computer. This approach delivers enhanced capabilities and significant size, weight, power, and cost (SWaP-C) benefits to ground vehicles.
By integrating multiple different technologies into a single rugged LRU, the DBH-670A can effectively distribute A-PNT data across the entire vehicle in a trusted manner. Because it hosts the Defense Advanced GPS Receiver (DAGR) functionality within the VICTORY switch, the DBH-670A eliminates the need for a legacy DAGR LRU from the vehicle.
Even better, because the A-PNT services are tightly integrated to the DBH-670A's vehicle network switch (which supports interfaces such as CANbus), there is no need for separate DAGRs dedicated to every on-vehicle device. That means a single Global Positioning System (GPS) receiver can now support the entire vehicle, enabling the removal of numerous redundant GPS receivers and antennae from the vehicle and further reducing SWaP-C.
"Our new DBH-670A A-PNT Digital Beachhead is a game changer. It integrates complementary PNT sources, the VICTORY vehicle network, and processing into a single rugged chassis," said Chris Wiltsey, Senior Vice President and General Manager, Curtiss-Wright Defense Solutions.
"The DBH-670A sets a new standard for delivering new capabilities to the warfighter, while drastically reducing the ground vehicle's SWaP burden and costs. This innovative integrated system enables system designers to replace multiple legacy LRUs with a single, upgradeable compact unit," added Wiltsey.
System designers are seeking deployable solutions that ensure delivery of accurate PNT information to the warfighter in GPS-denied environments. Curtiss-Wright's DBH-670A uniquely integrates a multi-functional vehicle computer, a powerful GbE switch, and a power-efficient Arm computer in a single rugged box. This Modular Open Systems Approach (MOSA)-based unit provides a GPS-disciplined Chip Scale Atomic Clock (CSAC) and an on-board 10 degree of freedom inertial measurement unit (IMU).
The DBH-670A also supports direct connection to an external GPS receiver (National Marine Electronics Association [NMEA], DAGR, or equivalent) for real-time GPS position and time data. It can be optionally configured with an on-board GPS receiver that supports M-Code and SAASM.