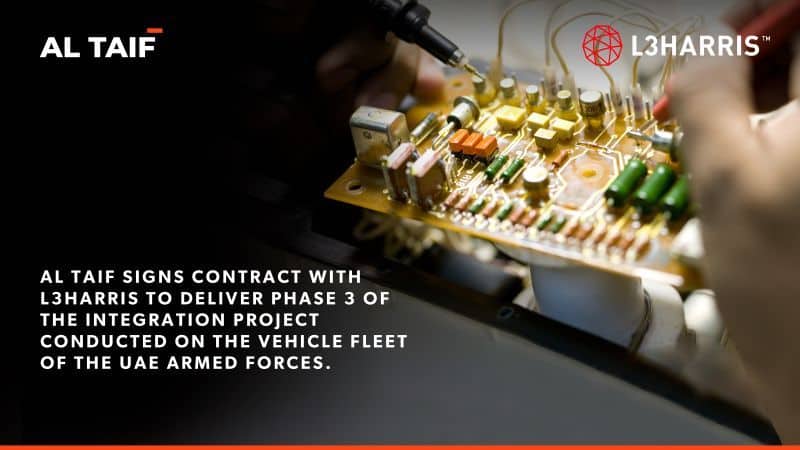 AL TAIF, the UAE's leading provider of maintenance, repair and overhaul services for military equipment, has signed a contract with L3Harris Technologies to deliver program management and engineering services for Phase 3 of L3Harris' systems integration project conducted on the vehicle fleet of the UAE Armed Forces. 
The contract, valued at AED47 million, comprises fabrication, bracket design support and installation in compliance with ISO 9001:2015, OHSAS 18001:2007 and other regulatory standards. The three-phase project has been ongoing since 2014.
"After the successful completion of Phase 1 and 2 of the systems integration projects, we are delighted to sign the contract for the final phase," said Saif Al Dahbashi, Acting CEO of AL TAIF.
"With our qualifications, knowledge of the UAE Armed Forces vehicles, and experience in executing the previous phases, we are perfectly positioned to support our partner L3Harris in providing seamless technical services to the customer.
"This collaboration will also help expand on our combined strategic skills and we are honored to continue supporting the Ministry of Defense and L3Harris with our land systems capabilities."
John Koenig, Vice President and General Manager, Global Communication Systems, L3Harris, added, "AL TAIF continues to be an exceptional partner to L3 Harris and the Ministry of Defense. Its extensive knowledge and vast experience working with the UAE Armed Forces has contributed to the overall success of the program."