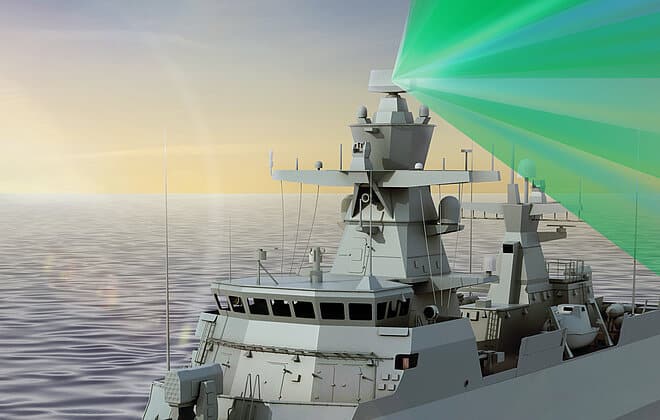 HENSOLDT has introduced its new multi-mission radar system for naval surveillance and target acquisition. Equipped with the latest technology, Quadome 3D provides rapid response and high precision at an excellent price-performance ratio.
This innovative dual-mode, multi-mission surveillance radar will provide naval forces and maritime security authorities with unprecedented situational awareness and short reaction times.
The new-generation technology modernizes one of HENSOLDT's key radar product lines and further enhances the group's extensive radar portfolio.
Fast detection and tracking of small, slow and fast targets offers a reliable and stable air picture, with fast track initiation to support longer effector keep-out range. The new-generation radar features the latest Gallium Nitride (GaN)-based Active Electronically Steered Antenna (AESA) technology and is software-defined, thus being a future-proof solution with an extended operational lifetime.
Quadome features two main operational modes to simplify operator interaction and to reduce operator workload. Surveillance mode is used for general surface and air surveillance while the self-defense mode is employed for high-threat situations and target engagement, with helicopter support continuously available in either mode.
Quadome is designed for the tactical naval radar systems market, mainly targeting offshore patrol vessels, corvettes, light frigates and support vessels. Because of its compact size, relatively low mass and excellent price-performance ratio, the Quadome radar brings 3D air surveillance and air defense capabilities to vessels that may otherwise only been fitted with 2D target detection capability.
"Quadome operates in C-Band for operationally advantageous reasons, offering the best compromise for small- and medium-sized vessels demanding a high-performance," says Ryszard Bil, Head of Portfolio Development and Technical Director for HENSOLDT's Radar and Naval Solutions Division.
Clients will have the benefit of lower life-cycle costs, reduced user-effort due to lower workloads, training and skills and comprehensive modern support concepts. The lifespan of the product is also significantly extended with new-generation, future-proof technology that offers the ability to add new features as new threats emerge, using the software-defined architecture.
"Quadome builds on the reputation and track record of HENSOLDT's naval tactical radar family, which has been very successful and has sold over 100 units over a 25-year timespan," says Peter Schlote, Head of the Radar and Naval Solutions Division.