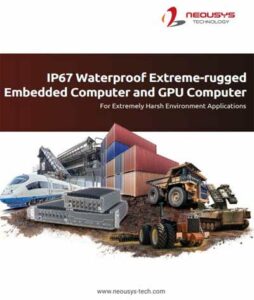 Neousys, a leading developer of rugged military computers and embedded mission computing solutions for manned and unmanned military vehicle platforms, has released a brochure detailing applications for extreme-rugged computers in mission-critical deployments.
Issues such as shock, vibration, corrosions, liquid or dust intrusion, etc. are commonly found when end-users deploy their solutions at the edge, which cause operation reliability issues.
To conquer these environmental issues, Neousys utilized patented technologies and created SEMIL, an extreme-rugged computer.
Currently deployed in mining dump trucks, agriculture tractors, military vehicles, railway and factories, etc., it has proven to be extremely effective against the above said environmental challenges for mission-critical deployments.
According to Neousys, the extreme-rugged intelligent system solution increases workers safety, productivity and efficiency, reducing energy consumption and operation costs.
Neousys IP67 extreme-rugged embedded computer SEMIL features Neousys' expert embedded system designs to deal with deployment challenges such as unstable electrical power source, wide operating temperature, shock, vibration and climatic factors. The system can also accommodate an NVIDIA RTX 2000 or Tesla T4 to enable stable and powerful AI inference performance for edge deployments.
Download the IP67 Waterproof Extreme-Rugged Embedded Computer brochure>