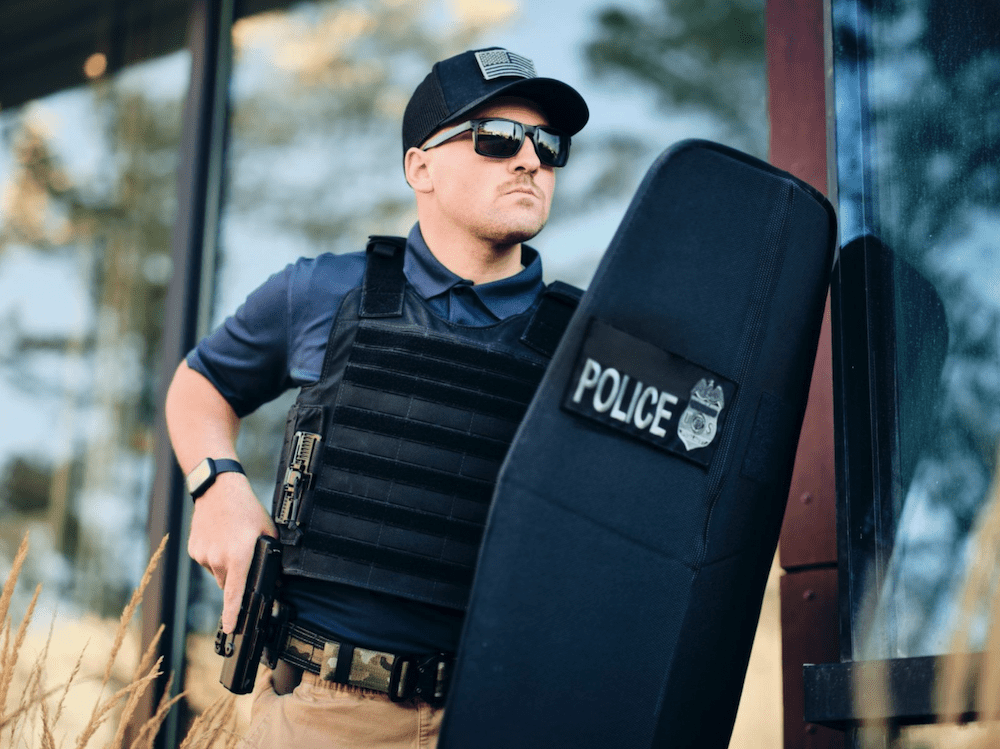 AEGIX Global has released the new NIJ Level III version of its award-winning, origami expandable Swift Shield for law enforcement agencies.
NIJ Level III ballistic material is certified to protect against handguns and rifle rounds as used by the majority of AR-15 and AK-47 style rifles. The shield meets the level III standard, plus it will also stop the AK-47 Mild Steel Core (MSC) rounds.
When fully deployed, the Level III Swift Shield offers approximately six-square feet of ballistic protection whilst weighing only 13.5 lbs. Swift Shield employs a unique origami folding design to collapse down to the size of a notebook computer for easy storage. It provides a new approach to personal protection for professionals in law enforcement, military/defense, and security.
"At only 13.5 lbs., the light weight, expandable Swift Shield is unlike anything on the market in terms of weight, usability and access," said Chet Linton, CEO of AEGIX Global. "The user-friendly origami design marks the first time this much Level III ballistic protection can be easily stored within arm's reach in an officer's vehicle, saddle bag or even backpack. Swift Shield is a practical solution that delivers immediate ballistic protection in high-stress situations where lives are on the line."
In addition to a Level III version, Swift Shield has been updated with several new design elements. All versions of the shield are now wrapped in laminated Squadron, which is a rugged, abrasion resistant, water repellant, 100% high-tenacity nylon. Squadron is extremely strong and makes the material—even at the modular light-weight load-carrying equipment (MOLLE) areas—nearly impossible to tear under regular use. The new precision laser-cut MOLLE system is located on the interior portion of the shield facing the officer. This provides new options for storing equipment such as med-kits, multi-tools, magazine pouches and other lifesaving equipment directly on the shield for easy and immediate access. Another practical feature is the addition of a handle at the bottom of the shield. This enables users to flip the shield and hang it on areas that need ballistic protection such as a car door or window.
Linton said, "In a recent round of ballistic tests, the light-weight armor panels excelled in their performance levels, but more than that, the new Squadron material caught all the bullet fragments with no spalling, which is a major concern for most traditional ballistic shields."
AEGIX is also introducing a sling bag with a tear-away zipper for quick and easy access to the shield. This bag was designed in part by a former SWAT team member to ensure practical usability in tactical situations. It is also housed in the Squadron material making it ideal for use in any high-risk scenario.
Find suppliers and manufacturers of ballistic protection equipment>>