Triad has released an article discussing different applications of MANET (Mobile Ad Hoc Network) and how it can be effective for improving data communications, connectivity, situational awareness, and operation in A2/AD environments.
---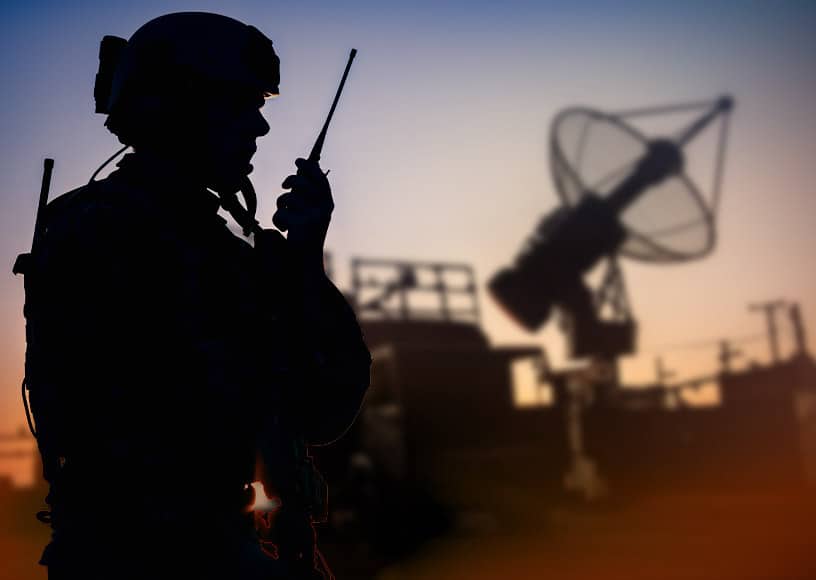 The military is one of the largest users of MANET. The military must perform a variety of missions, often in a hostile environment. The Army, Navy, Marines, Air Force, and Coast Guard require an information network between soldiers, vehicles, ships, planes, and headquarters—and this network must be safe from hacking, jamming, and targeting by adversaries. The need to transfer more and more information over greater distances with greater numbers of end points presents a challenging and complex mix of transceivers, amplifiers, and antenna equipment.
Unmanned systems utilizing MANET have been identified as a strategy to fight adversaries—autonomous, high-capacity bearers that can operate independently in anti-access/area-denial (A2/AD) environments, adding and removing members automatically and seamlessly, provide a way to transfer data in these challenging environments.
Before MANET, other communications technologies for off-site/off-platform bearers were lacking in three areas:
Their ability to handle high-capacity data
Autonomous operation
Self-forming and self-healing networks.
Let's examine these other existing technologies, ultimately moving toward the conclusion that MANET, and ultimately MIMO/MANET, is superior.
HF Radio Technology
This technology can travel long distances, but it requires a high amount of power, can be unreliable in some weather conditions, and has inherently limited bandwidth.
VHF/UHF Radio
Tactical VHF/UHF Radio consists of line-of-sight tactical radio links that allow for immediate, point-to-point transfer of voice and data. Although the high capacity requirement is met, the need for complex configurations and controller nodes do not result in truly autonomous network forming and healing.
Satellite Communications (SATCOM)
SATCOM can communicate reliably over long distances from almost anywhere a mission demands and has increased bandwidth capacity (although it is challenged to keep up with an ever increasing capacity demand).
But SATCOM equipment can be very costly and complex, sometimes requiring multiple large-dish radomes that take up valuable space in congested environments. In addition, SATCOM continues to be a major target for near-peer adversaries and struggles in the areas of autonomous operation, and self-forming and self-healing network, requiring immensely complex negotiation and timing systems.
Tactical Data Links
Tactical data links meet many of these needs with numerous types and applications. They are specifically designed for transferring high-capacity data. They typically work in a point-to-point, or point-to-multi-point configuration with a predetermined network topology and user list. But not many of the tactical data link technologies can operate in a truly independent and ad-hoc manner in military applications.
The Solution: MANET & MIMO/MANET
Mobile Ad Hoc Network or MANET is a group of mobile devices like laptops, mobile phones, radios, or sensors that communicate with each other wirelessly, providing needed network functionality without an existing fixed infrastructure, and can change locations and reconfigure themselves while doing so. MANETs can be restricted to a local group of wireless devices or they can be connected to the Internet. MANET allows information to be exchanged without regard for geographic location or remoteness of infrastructure.
MIMO (Multiple-Input Multiple-Output) is a wireless technology that uses multiple transmitters and receivers to transfer more data over a given time. When applied to a tactical mobile ad hoc network (MANET), MIMO has a high potential to improve data communications, connectivity, and situational awareness. When combined with the self-forming and self-healing advantages of the MANET implementation, these MIMO/MANET systems' ability to operate in A2/AD environments become substantially stronger.
MIMO/MANET technology is the best available at present and the go-to solution in the areas of high-capacity data, autonomous operation, and self-forming and self-healing networks.
Other Applications
There are other applications where MIMO/MANET has substantially improved communication in remote or hostile environments when communication is required without a fixed infrastructure. These include commercial (for emergency rescue/disaster relief), low-level use (like law enforcement), computer data networks, and sensor networks to detect vibration, temperature, pressure, toxins, pollution, and more.
Triad RF Systems offers a number of THPR High Power Radio Systems that utilize the Silvus Streamcaster SC4200 and SC4400, the DTC SOLO8, the Microhard 2×2 MIMO pMDDL, and others as a core radio. These fully integrated high-power systems support UHF, L, S and C bands and offer output power levels of up to 100W per channel.
Naval vessels operate in a dynamic environment requiring a wide array of communication links or off-ship bearers to transport information to or from maritime assets. As more information is transferred over greater distances with many more endpoints, there is a mixture of transceivers, amplifiers and antennas to contend with. And, near-peer adversaries are continually seeking to target maritime vessels to actively jam communication. These challenges have led to amazing advancements with MANET radios.
For more information, download our Tech Brief: Keys to Successful Naval Defense Using MIMO/MANET Radio System Deployments>