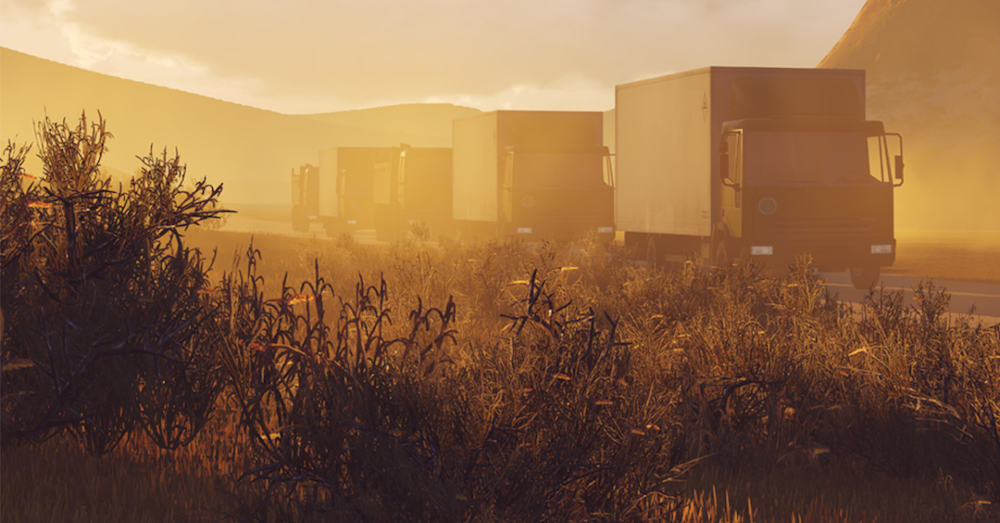 Dantherm explains how its container climate control units are used in military operations to handle the heat, the cold, inhospitable conditions and situations that could be harmful to the health of personnel.
---
In today's military operations, containers play a much more substantial role than just transporting goods. They may look similar to regular shipping containers from the outside, but inside they could be used for command posts, critical electronic equipment, field hospitals or workshops.
While they are ideal for transportation to remote areas, containers are particularly susceptible to changes in temperature and can heat or cool to dangerous levels. For both equipment and personnel to work at their best in critical situations, mechanical climate control must be implemented in order to maintain a safe and comfortable living and working environment.
In extreme situations, a standard ventilation system is neither strong, powerful or safe enough for the job. In addition to being capable of high-capacity cooling and heating in adverse conditions, container climate control units deployed in combat zones also need to be efficiently sealed to ensure that contamination from chemical attacks remains outside.
What's needed from a military-standard container climate control unit?
Capacity
Due to the nature of their work, military personnel on the front lines are likely to be carrying out critical tasks and making high-stakes decisions.
Providing a climate-controlled environment is vital for them to work efficiently and live comfortably.
Logistics
Containers are built to International Standards Organisation (ISO) dimensions for transportation, but with a protruding cooling unit, stacking can become a challenge. At the same time, having a cooling unit fixed inside a container takes up valuable space needed for equipment and personnel.
For seamless logistics across multimodal transportation methods (including rail, road or sea freight) as well as efficient use of space, trap door systems mean cooling units can be locked inside the container during transportation and allow for 'plug-and-play' during deployment.
Simplicity
Military deployment needs to happen fast, and time spent on complicated installation processes can drastically hinder response times. Additionally, long periods of downtime due to maintenance isn't an option on the front line.
When the stakes are high, a well-considered design will ensure installation is quick and simple, with less to go wrong and minimal repairs in the future.
Strength
A climate control unit in a combat zone or remote location will be subject to many environmental factors, including shocks from transportation over rugged terrain.
A high-quality unit should be purpose-built for military use, designed to withstand high impact, and have undergone extensive testing to ensure it is suitable for deployment.
Safety
In combat zones where there is the possibility of chemical attacks, climate control units must be sealed with gaskets, and thus airtight, to prevent contaminants from intruding the container while working in conjunction with an adequate air filtration system.
Units that are Collective Protection (COLPRO) and Chemical, Biological, Radiological and Nuclear (CBRN) compliant help ensure group protection of personnel in a critical warfare situation.
Why Dantherm units have been deployed across the globe for more than 35 years
Working with military container manufacturers, and directly with the military, Dantherm provides climate control solutions to meet specific requirements of individual military operations.
Ruggedized
All our units are designed and manufactured to be able to operate flawlessly in sun, rain, snow, dust and ice.
Versatile
Dantherm climate control units normally provide container cooling and heating from -32°C to +60°C, with the new AC-M10 unit expanding that capability to -51°C to +60°C
Electromagnetic Compatibility (EMC)
Having delivered around 5,000 container solutions for deployment in all parts of the world, our acclaimed solutions meet military EMC standards in relation to attenuation, emission and immunity.
Powerful
Achieve high-capacity air cooling, ranging from 5 to 10KW.
Practical
Simple installation and maintenance with container trap door systems allow the units to be stowed during transportation and easily deployed in the field.
With the widest temperature operating scope in the Dantherm range (-51°C to +60°C) the AC-M10 is a new climate control solution with unique capabilities.
Designed specifically for ISO container mounting and created in collaboration with both container manufacturers and military personnel, this delivers the heating and cooling power required in the most severe and harsh conditions.
For more information on the technology available and how we can meet your specific requirements, contact our team.