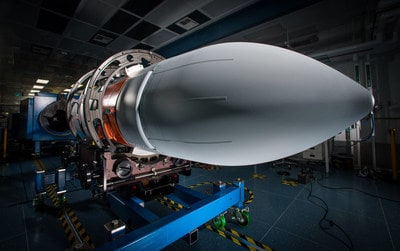 The U.S. Navy has tested the validity of the Raytheon Intelligence and Space Next Generation Jammer Mid-Band (NGJ-MB) capability's maintenance plans and technical manuals during a recent logistics demonstration at Naval Air Station (NAS) Patuxent River, Maryland.
A 15-day test event took place in October, with U.S. Navy Sailors conducting maintenance procedures on an NGJ-MB engineering development model test pod, including the removal and reinstallation of components inside the pod based on previous training. The fleet maintainers also verified step-by-step procedures from the technical manuals, validated and tested new support equipment, and provided feedback to the team.
The demonstration was conducted in two parts throughout the month with a reduced team of 13 to comply with COVID-19 restrictions. Participants included Navy aviation electronics technicians and maintainers from Commander Electronic Attack Wing Pacific (CVWP) and Naval Air Weapons Station China Lake, California; along with personnel from Raytheon Intelligence and Space; Support Equipment Team from Lakehurst, New Jersey; Airborne Electronic Attack Systems Program (PMA-234), F/A-18 & EA-18G Program (PMA-265); and NGJ Integrated Test Team, all located at NAS Patuxent River.
Danielle Raffa-Schubert, Supportability Test and Evaluation lead, who coordinated the logistics demo, said the purpose of the demo was to allow Sailors who had not seen the NGJ-MB pod to receive classroom training and then run through the procedures and manuals, while maintaining safety of the pod, aircraft and the people.
"There are always rumors about what the [NGJ] pod is and that it will be easier to work on than the ALQ-99 [Tactical Jamming System currently used by the fleet], but they are completely different," said Aviation Electronics Technician 1st Class Larry Basham, Electronic Attack Weapons School, NAS Whidbey Island, Washington.
The NGJ-MB system, developed by Raytheon Intelligence and Space, is part of a larger NGJ system that will augment, and ultimately replace the legacy ALQ-99 currently used on the EA-18G Growler. NGJ-MB is an external jamming pod that will address advanced and emerging threats using the latest digital, software-based and Active Electronically Scanned Array technologies and will provide enhanced AEA capabilities to disrupt, deny and degrade enemy air defense and ground communication systems.
NGJ-MB capability is planned for initial operational capability in 2022.