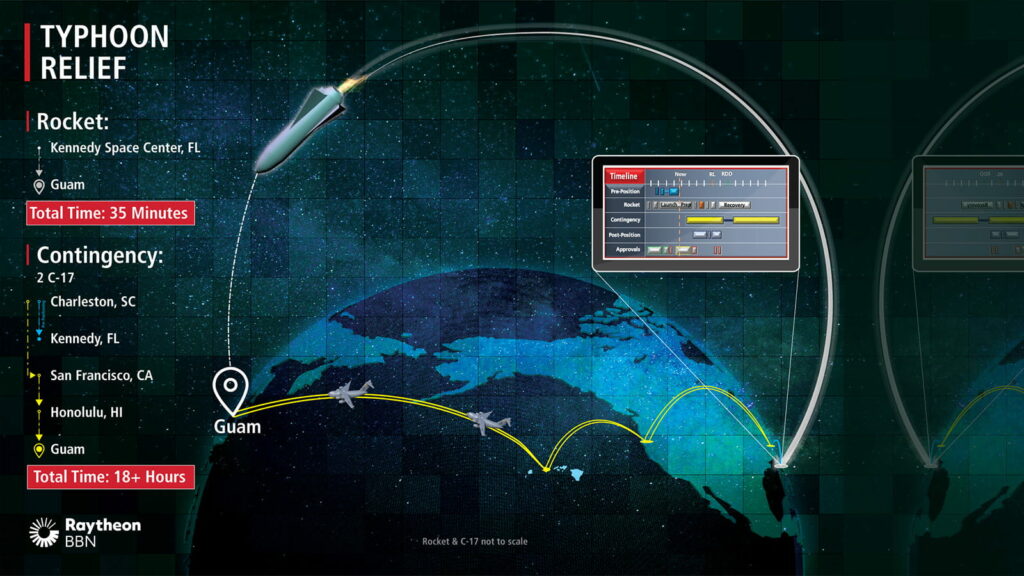 The U.S. Air Force has awarded Raytheon BBN a contract to develop a rocket cargo mission, planning, and Command and Control, or C2, system.
The contract has a potential value of $8.7 million over four years and is part of the U.S. Air Force 2030 Science and Technology Strategy's transformational science and technology portfolio.
Over an initial 30-month effort, the Raytheon BBN team will develop mission planning and C2 concepts, identify and develop initial initial rocket cargo workflows and processes, and design advanced human-machine interfaces based on cognitive engineering principles. They will also work to identify coordination points across mission-planning and C2 stakeholders and propose solutions to address existing gaps in knowledge, organizations and processes.
According to Raytheon, success of the system relies on careful design and development of complex collaborative planning, and C2 processes and tools across multiple government and commercial organizations.
Raytheon is expected to leverage its experience developing and maintaining logistics and planning tools used by the Department of Defense, such as Analysis of Mobility Platform, or AMP, Global Mission Scheduling, or GMS, and the Rapid Course of Action Tool, or RCAT, to provide the capability to support the rocket cargo mission. Use cases will include high profile rapid delivery of DOD mission cargo and humanitarian aid.
Beth DePass, Raytheon BBN principal investigator for the project, said: "The tool we create must enable the Air Force to plan, coordinate and conduct a rocket cargo mission within hours. At its core, this is a logistics challenge of epic proportions. Although the cargo would initially be pre-packaged and stored at the launch site for rapid loading, there are still tremendous challenges with how the DOD will safely load, launch, and deliver under very tight timing constraints. We will be taking into consideration pre-flight testing, weather conditions, launch approvals, and many other variables, to deliver that cargo precisely where it's needed, when it's needed, faster than current delivery methods. We will iterate with multiple DOD stakeholders, the Air Force, and the Space Force to ensure we have the best solution to one of their greatest challenges."
Work on the contract will be conducted in Cambridge, Massachusetts; Asheville, North Carolina; Mountain View, California; Stanford, California; Austin, Texas; and Fort Wayne, Indiana.
Find suppliers of Military Command & Control (C2) Solutions & Technology >>