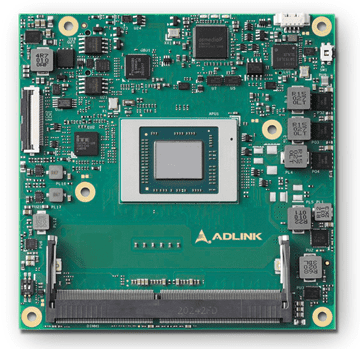 ADLINK Technology has launched its first octa-core COM Express Type 6 compact module featuring the new AMD Ryzen™ V2000 AP with integrated Radeon™ graphics, the cExpress-AR.
With double the core count, the cExpress-AR is well suited for use in demanding graphics-based applications such as 4K high speed video encoding and streaming, and AI inferencing at the edge.
"The AMD Ryzen™ V2000 APU has a high-performing graphics computing core making it great for use in AI inferencing applications without the need for an additional GPU. This is one way the cExpress-AR helps to lower overall system cost," said Alex Wang, COM Express Product Manager at ADLINK. "Compared to earlier embedded quad-core V1000 processors, the additional cores combined with AMD's Zen 2 architecture doubles performance and efficiency."
The cExpress-AR is the first Type 6 module on the market to support an octa-core (8-core) embedded SoC, with up to 16 threads and an impressive turbo boost up to 4.2 GHz. Processor choices include low power 8-core/6-core APUs with a configurable TDP between 10 and 25 watts and high performance 8-core/6-core APUs with a configurable TDP between 35 and 54 watts.
ADLINK's cExpress-AR is also well suited for mission critical applications in harsh environments, featuring support for up to 64GB DDR4 in two SO-DIMMs; ECC error correction based on selected SKUs and configurable TDP (down to 10W); Passive cooling; and 6 to 8 core offerings.
With integrated new generation AMD Radeon Vega graphics, the cExpress-AR supports up to four independent 4K displays via DisplayPort, HDMI, DVI and LVDS. ADLINK also offers either eDP or analog VGA as build options by customer request. HEVC (H.265) 10-bit encoding and decoding is also supported by integrated hardware-acceleration.
The cExpress-AR, offers a wide range of high speed interfaces, including 2.5GbE Ethernet that is fully compatible to 1 GbE, 6x PCIe x1 Gen3 lanes (optionally up to 8x lanes possible) and 1x PCIe x8 Gen3 (on PEG pins), and 4x USB 3.2 ports. These features are fully compatible with the COM Express Rev. 3.0 specification, allowing for existing systems to upgrade and gain in performance without changing the carrier design.