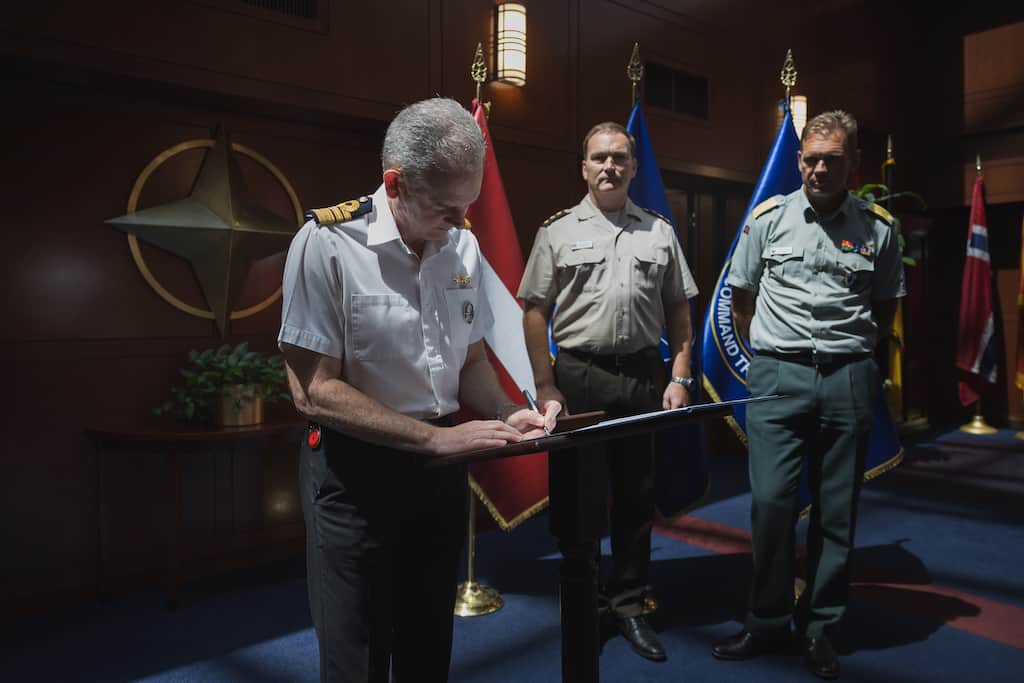 Supreme Headquarters Allied Commander Transformation and the Latvian Ministry of Defence have signed a Memorandum of Understanding (MoU) allowing NATO to use the Latvian National Armed Forces' 5G test site.
ACT is planning to conduct an operational technology exploration event at the site in Ādaži, Latvia, that will explore the potential of the Alliance's Research and Development (R&D) initiatives as well as Ādaži's tactical 5G capabilities.
In doing so, this event will see the use of virtual and augmented reality, unmanned vehicles, sensors, and applications within a tactical 5G bubble. It will also see the Alliance test the ability of 5G technologies to enhance the delivery of telehealth services to NATO and national military personnel.
By testing the novel capabilities of the next generation of telecommunications networks, Allied Command Transformation will demonstrate how 5G's ability to provide ultra-reliable and low-latency connections can provide additive capabilities to NATO Communication and Information Systems.
It will also demonstrate the use and benefit of 5G technologies in enhancing the awareness, agility, and lethality of NATO's forces in future conflicts, driving the Alliance's Digital Transformation and transition to Multi-Domain Operations.
In preparation for the event, the NATO Next Generation Communications Technologies Event Planning Session was held in Riga, Latvia. Organized by the Latvian Ministry of Defence, in collaboration with Latvia's National Armed Forces and Latvian Mobile Telephone, the planning session gathered an extensive team of experts to refine the upcoming technology event's scenario and technical execution.
They also met with Allied Command Transformation's event lead and technical team, visited the Ādaži 5G military testbed to inspect the physical infrastructure available for the experiment, and conducted system interconnectivity tests.
Latvia is uniquely situated to enable the testing of operational 5G technology, having hosted Allied Command Transformation's first operational 5G experiment in November 2022.
This experiment saw augmented and virtual reality software be integrated with 5G mobile telecommunications technologies and concluded with a test at Ādaži.
Latvian Minister of Defence, Ms Ināra Mūrniece, said: "Latvia has developed great innovation capabilities. We accommodate globally recognized expert teams with a wide spectrum of competencies, as well as highly developed infrastructure for testing future command and control solutions. By combining our expertise with NATO's vision, I am convinced that we can demonstrate the transformative power of 5G technology in enhancing both military and civilian operations." 
Vice Admiral Guy Robinson added: "In signing this agreement, NATO will have the opportunity to validate new concepts and develop requirements in an operational environment that will support NATO's Digital Transformation and Multi-Domain Operations ambitions."