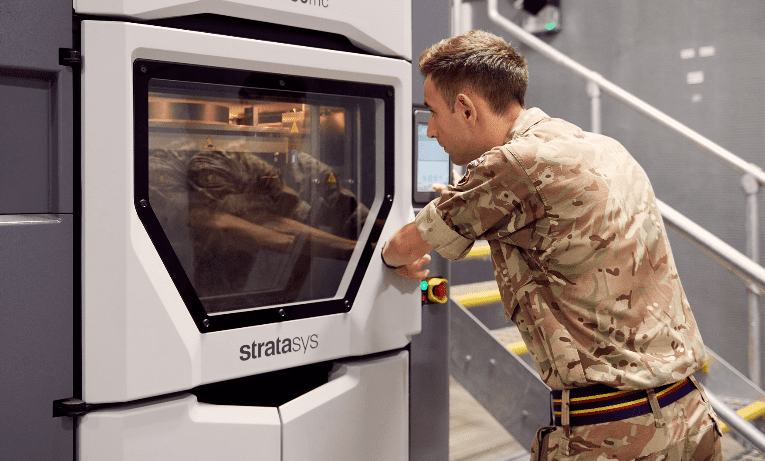 The Ministry of Defence (MoD) has set up the first framework for additive manufacturing (AdM), awarding industry contracts to five companies.
According to the MoD, this is the first step in exploring issues which prevent them and industry partners from using AdM, commonly known as 3D printing, to its best effect.
Five companies, AMFG, Babcock, NP Aerospace, RBSL and Thales, will tackle the first phase of this work; focused on fitting eleven non-safety critical metallic parts onto in-service platforms.
The companies will work closely with the MoD as well as with other industry organizations, to scale up the use of AdM parts. The work is expected to open the doors to greater innovation in manufacturing.
Under this framework, the MoD will work with industry on tasks of increasing complexity, all focused around additively manufacturing defense inventory parts to fit these to in-service platforms. If successful, the MoD will be able to better exploit the technology.
Within Strategic Command, the Defence Support (DefSp) organization is leading the project in close collaboration with its delivery partner, Defence Equipment and Support (DE&S). The contracts were awarded by DE&S' Future Capability Group on behalf of DefSp.
Charlotte Robinson, the Head of the Defence Support Innovation Team, said: "Through awarding these contracts we seek to unlock the issues which prevent us and our industry partners from using additive manufacturing to best effect. This includes tackling challenges such as upscaling its use, certifying additively manufactured parts for use on our platform systems and redesigning and manufacturing parts which are no longer available.
"More broadly, we are looking at how to open the doors to manufacturing innovation by streamlining the end-to-end process. We recognize that this is a joint effort, not just between our organization and DE&S, but importantly with our industry partners who hold many of the levers to enable change. We must work with them if we are to see the changes that all sides want and need. As a result, we have established a collaborative governance framework that runs alongside the Spirals to provide support and challenge to all involved."
Col Dan Anders-Brown, FCG's additive manufacturing lead, commented: "The industrial manufacturing base of our nation is critical to the success of future military operations and additive manufacturing plays an increasingly crucial role in defense, boosting availability of parts for front line commands globally. This is a vitally important area for our Armed Forces and one which has the potential to transform how we run defense logistics."
He added: "From ensuring parts are much more readily available to Front Line Commands to reducing our overall global carbon emissions, additive manufacturing offers so many benefits now and in the future and we look forward to continuing this work with Defence Support and working closely with our industry partners to unlock the full potential and capability of this exciting technology."