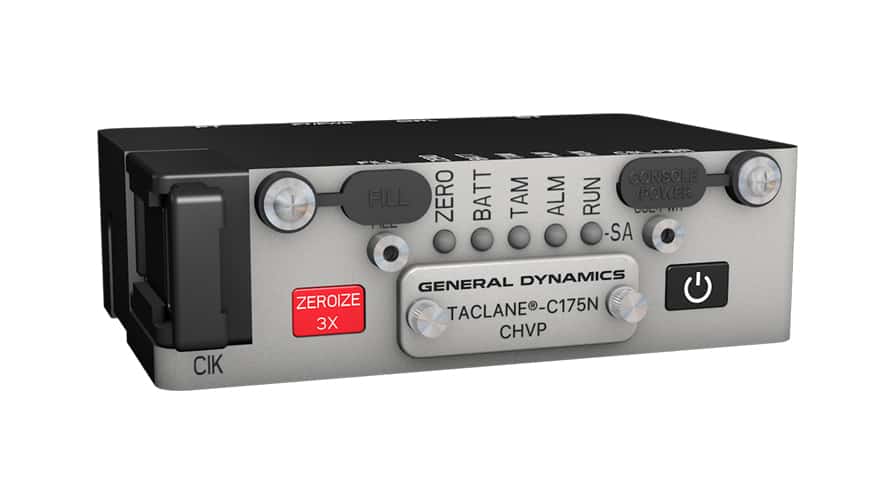 General Dynamics Mission Systems has introduced the TACLANE-C175N Cryptographic High Value Product (CHVP) encryptor, a non-controlled cryptographic item (CCI) variant of the TACLANE-Nano (KG-175N) small form factor HAIPE® encryptor. The TACLANE-C175N CHVP is designed to NSA's high assurance security standards to protect classified voice and data communications in high-risk environments that demand less restrictive handling requirements.
The new TACLANE-C175N CHVP encryptor is a single hardware solution designed to protect voice, video and data. Utilized in high risk environments such as telework, embedded unattended/unmanned platforms and leave behind missions, this CHVP encryptor enables the extended reach of TACLANE security to the tactical edge.
Recognizing user needs for security and interoperability at the tactical edge, the TACLANE-C175N's 200 Mb/s aggregate throughput is delivered through a low size, weight, power and cost (SWaP-C) optimized form factor ruggedized to withstand the rigors of the mobile mission. Through the development of this CHVP encryptor, the TACLANE-C175N aims to take government personnel out of high-risk environments, putting humans before hardware. The CHVP designation is similar to the policy of handling high valued items like IT equipment.
In addition to the reduced handling restriction, the embedded TACLANE Render Useless Zeroize (RUZ) feature can be utilized to provide a fast, simple way to make TACLANE-C175N CHVP inoperable and inaccessible by eliminating critical security parameters like cryptographic keys and algorithms. Once the device is rendered useless, adversaries cannot access information, reconfigure or operate the device, providing data security on unmanned platforms and in high-risk environments.