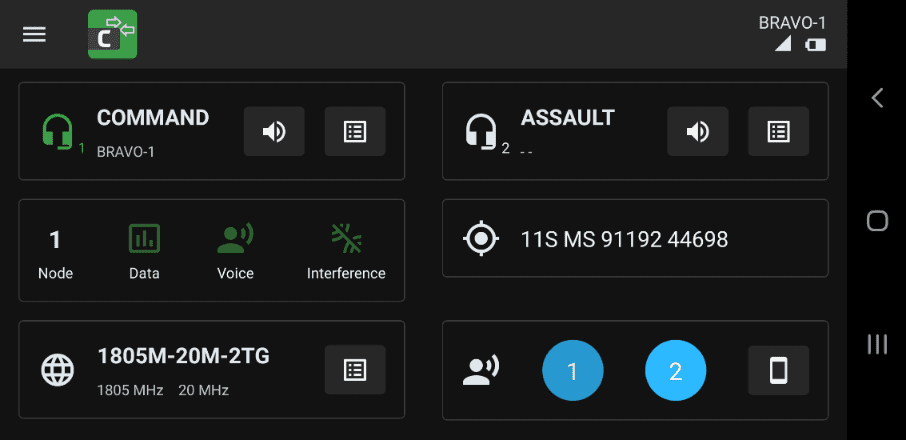 TrellisWare Technologies, Inc. has released a mobile application that provides a reimagined approach to operating and controlling TrellisWare radios.
The TW Connect is designed to be a user-friendly application in controlling TrellisWare radios from an Android device, enhancing existing features of the current TARC application.
With a refreshed design, TW Connect is a more stable and fast application, providing a more intuitive user experience. TW Connect also adds new features that offer enhanced communications for users that wish to operate more covertly than previously capable.
With TW Connect, the TrellisWare radio can now be fully operated through an Android device, allowing the radio to be stored in a pack and then remotely connected using an Android device via WiFi or cable. The enhanced user experience enables the selection of communications presets, voice talk groups, and radio settings from the mobile application.
Users can communicate over the radio solely through the Android device with on-screen Push-to-Talk (PTT) capability or by leveraging the PTT function of an Android device (if equipped). Radio voice communications are now similar to how people interact with their smartphones, by leveraging earbuds featuring Bluetooth wireless technology, paired with the Android device.
TW Connect also provides users a quick view of Tactical Scalable Mobile Ad-hoc Network (TSM) utilization and activity from an Android device via the connected TrellisWare radio.
In conjunction with the TrellisWare Network Controller (TNC), users now have the most capable network tools to operate a TrellisWare network more efficiently.
"TrellisWare is excited for customers to receive this latest addition to our software application lineup," said Matt Lappin, product manager of user systems for TrellisWare. "TW Connect brings a new way to interact with TrellisWare TSM networks, and the addition of 2-channel PTT within the application provides users a simple, yet powerful, way to communicate from Android mobile devices, such as the Sonim XP8, and other smartphones."
Available as a software download on Android devices, TW Connect securely connects users to the largest waveform ecosystem used by the Department of Defense (DoD), and now provides the same capability to government, public safety agencies, and critical infrastructure entities around the world.