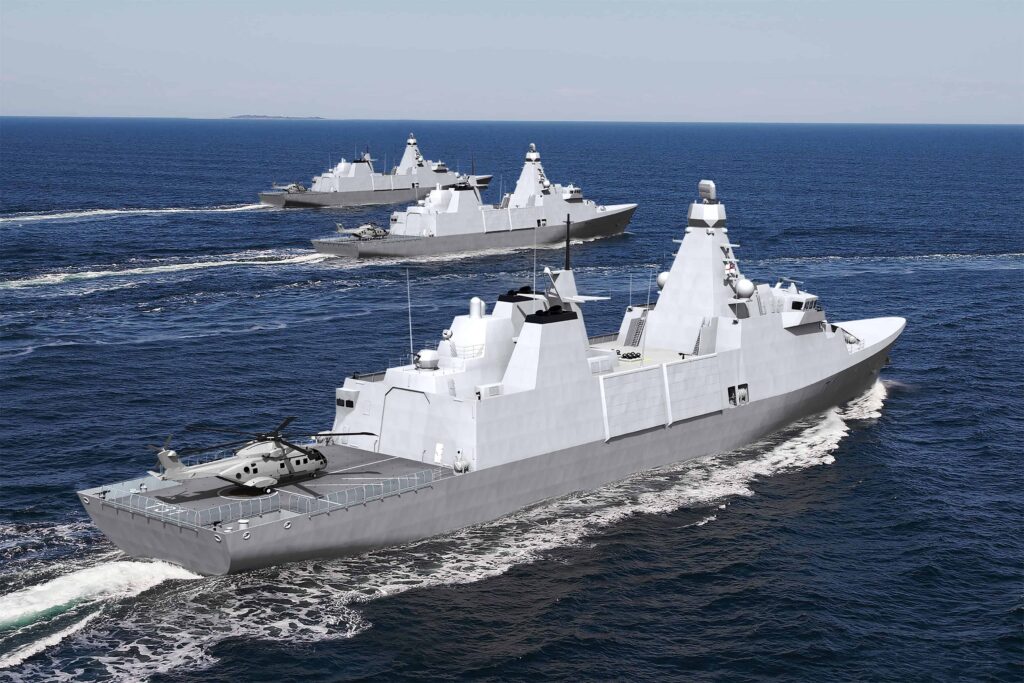 ERIKS has won a major contract from Babcock International for the supply of electrically actuated valves and ancillary equipment for the new Type 31 frigate programme. This is one of the biggest single contracts ever awarded to ERIKS in the UK and is an important recognition of the company's parts supply and specialised engineering services.
The new Type 31 frigates are part of the National Shipbuilding Strategy, which is intended to transform naval shipbuilding in the UK. The frigate is based on Babcock's Arrowhead 140 baseline design. Babcock's Arrowhead 140 offers a modern, global frigate that can be constructed faster, more efficiently and at a considerably lower cost than has previously been achievable, while offering far greater operational capabilities.
The Type 31 frigates have a unique modular design, which is configurable to meet the needs of both the Royal Navy and allied navies around the world. For example, the new vessels feature an easily adaptable open architecture combat system, the option of different bridge wing modules and flexible mission bays.
The construction of each vessel will also make major departures from traditional designs in other areas; for example, replacing hydraulic systems with electrically actuated assemblies.
This brings a number of benefits, as high-pressure hydraulic systems add weight, complexity and cost, and are potentially dangerous if pipelines are ruptured during an armed conflict. Andy Silver, Director of Flow Equipment & Services, at ERIKS, explains that, "By comparison, the electrical actuators and valves that we will be supplying are easier to install and maintain; they are also far safer in operation and, crucially, can be networked, with advanced diagnostics, as part of a new generation of ship-wide automation and digital control systems. These are important factors in the Royal Navy's programme to introduce a new generation of warships that offer sophisticated defence and offense capabilities with low through-life costs."
ERIKS has a long history of supplying equipment to the Royal Navy and first became involved in the Type 31 programme in 2019. Andy Silver says, "Since then, we've worked closely with the design and engineering group at Babcock International and the Royal Navy, embedding key members of our team to provide specialised knowledge and expertise that has helped with the development of the actuation and valve systems."
The electrical actuator packages and valves being supplied by ERIKS will be used ship-wide to control a wide range of process fluids, including water and heating and ventilating systems. The company will also be supplying filtration equipment, which will be used as part of the Mud Boxes on each warship; these protect marine systems from damage by removing debris and large particles on both suction and discharge lines.
An additional factor in the decision to award the contract to ERIKS was the company's ability to provide a range of engineering and sub-assembly services, to simplify subsequent installation by the Babcock engineers in Rosyth. ERIKS will be providing full inspection, testing and certification to ensure through-life traceability of all components and assemblies; this will improve the speed of repair once each vessel is in service.
Andy Silver concludes, "This is a major contract win for ERIKS in the UK and we're delighted to be able to continue our relationship as a key supplier to Babcock International and the Royal Navy." Babcock International is currently completing the construction of a major new Assembly Hall at Rosyth in Scotland, where two frigates can be built simultaneously. It is anticipated that deliveries from ERIKS will commence in October.