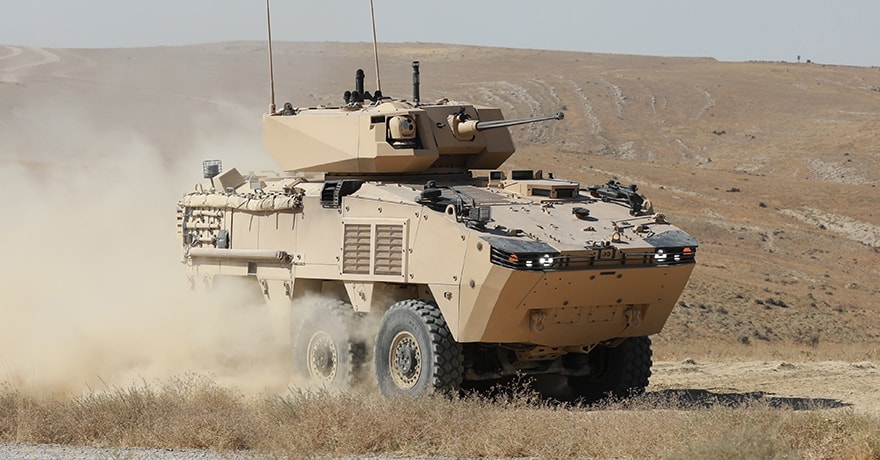 Otokar is exhibiting its ARMA 6×6 Wheeled Armored Vehicle and COBRA II Tactical Armored Vehicle at Defence Services Asia (DSA) 2022, 28-31 March in Kuala Lumpur, Malaysia, with the aim of strengthening its presence in Asia-Pacific.
"As a listed NATO and UN supplier, Otokar's military vehicles are actively in service in more than 35 countries and almost 55 end users in different climates and geographies around the world," said Otokar General Manager, Serdar Görgüç. "Otokar also stands out with its technology transfer and local production capabilities. With this respect Asia Pacific region is particularly important for Otokar, where our wide range of vehicles operate successfully for many years. We aim to expand our activities in the region in order to meet the existing and future requirements of our clients. In this context, we focus on collaboration opportunities including local production models through transfer of technology at DSA."
Otokar's multi-wheeled modular armored vehicle ARMA 6×6 offers superior mobility, high mine and ballistic protection, as well as medium and high-caliber weapon system integration options. Offering high tactical and technical features, ARMA comes with an optional amphibious variant for peacekeeping and humanitarian aid operations in the most demanding terrain and climate conditions.
ARMA 6×6 has a high payload capacity and large interior volume. It can be equipped with different weapons and manned / unmanned turrets according to the operational needs. Different weapon systems can be integrated into the ARMA 6×6, which can be used for various missions as an armored personnel carrier, armored combat vehicle, or a CBRN reconnaissance vehicle, for command, control, reconnaissance, surveillance and recovery missions.
COBRA II offers a high level of protection, payload capacity, and large internal volume. In addition to superior mobility, COBRA II also comes with the capacity to accommodate 10 personnel including the driver and commander, offering high protection against ballistic, mine, and IED threats. Delivering high performance in the toughest terrain and climate conditions with high power to weight ratio, COBRA II is tested rigorously in different parts of the world, on toughest terrain and climate conditions, and made thousands of miles.
Preferred especially for offering a wide range of weapons integration and mission equipment options, COBRA II is successfully in service of ambulance, command & control, reconnaissance, border protection, signal vehicle as well as internal security and peacekeeping missions. The modular structure of COBRA II also makes the vehicle a flexible platform for a personnel carrier, weapons platform, ground surveillance radar, and CBRN reconnaissance vehicle.
"Otokar stands apart with its expertise in design, development and system integration of both combat proven wheeled and tracked platforms, where they are internationally known for their survivability, superior mobility and modularity in challenging terrains and extreme weather conditions. We continue to introduce innovative solutions in land systems by taking into account the current and future requirements of modern armies and security forces. We analyze the different needs and expectations of our users for land systems, simulate these requirements in house and develop solutions that meet these requirements in the fastest manner thanks to our excellence in R&D, engineering and testing."