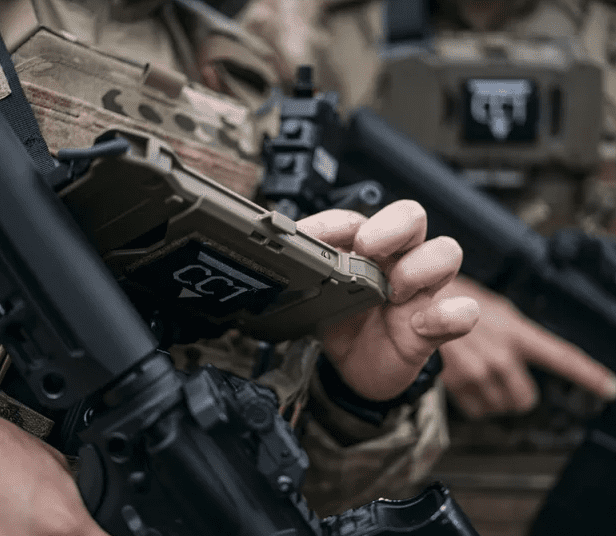 Roke has announced the launch of Charlie Charlie One (CC1), a secure, networked and intuitive tactical End User Device (EUD) ecosystem that the company believes will help digitize dismounted Command and Control (C2) and situational awareness.
According to Roke, CC1 generates competitive advantage for dismounted soldiers, equipping operators with fingertip digital technology that speeds up decision making and operational tempo.
Providing a lightweight solution that meets the demand for soldier worn sensors and systems, CC1 is secure, networked, intuitive and supportable in the field. In this way, devices can present key operational information to the deployed operator where it can be displayed, aggregated and shared within the team and beyond.
Based on the flagship Samsung Galaxy S22 smartphone, CC1 was engineered by Roke and Samsung to meet the demanding requirements of the tactical environment. It's scalable, secure, and underpinned by open standards and architectures to drive modernization in military operations. The EUD is also compatible with third party Android apps and a range of tactical accessories such as cases, mounts and cables.
CC1 enables soldiers to quickly interact with the device's hardware backed encryption to securely erase all stored data when the operational situation dictates. Additionally, CC1 automatically erases all operational data when a security event is triggered such as when a device has been lost or stolen. Security policies can be applied using the CC1 'Config Tool'. In most use cases this eliminates the need to use additional mobile device management software.
The system's 'App Console' provides a simple and intuitive user interface, displaying only the apps needed for the current operation and specific user. It can be easily edited to create custom user views and new profiles, adapting to changing user requirements and missions.
The inbuilt 'Network Manager' makes connection to modern mesh radios a simple plug in and go process. CC1 can be networked with new and existing systems through built-in tactical radio drivers, and is linkable with multiple radios and sensors via a tactical hub to deliver network resilience and connectivity.
CC1 is supported by the 'Config Tool' which enables soldiers to manage all aspects of the system while deployed. Users can apply the same settings and security policy to all EUDs in the network quickly and easily through the use of a QR code, and devices can be re-provisioned in the field – even after a factory reset.
The 'Config Tool' also allows soldiers to tailor security policies to meet evolving operational needs including; Emissions Control or whitelisting Wi-Fi and Bluetooth devices to apply to all CC1 devices.
"CC1 is the soldier's digital platform. It's been designed from the ground up, with the operator in mind, and we're excited to take it forward on Samsung's premium handset, as well as continuing to support our current CC1 product range," said Paul MacGregor, Managing Director of Roke. "We're leveraging our expertise in exploiting Commercial-Off-The-Shelf (COTS) technology to give the edge to our military customers through the ability to rapidly and intuitively evolve the system to meet their ever-changing needs in the battlespace."