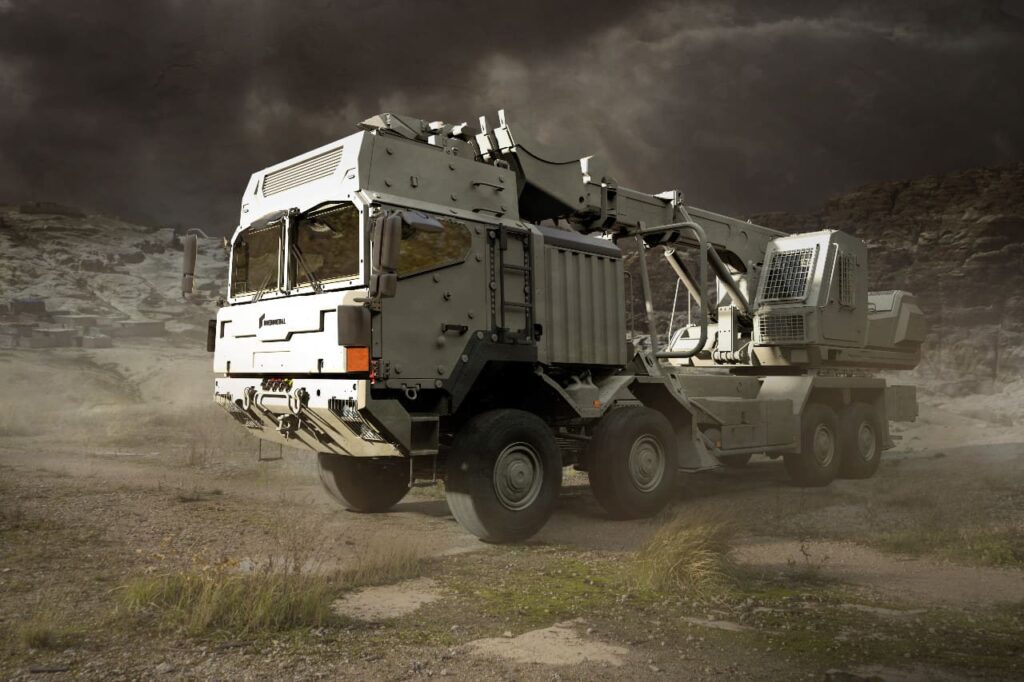 Slovakia-based CSM Industry has showcased its range of UDS military excavators at IDEX 2021, alongside the UAE's International Golden Group, as it seeks to strengthen its position in the middle-eastern market and support equipment modernization efforts.
CSM Industry's military excavators play an important role in military deployment, providing technical capabilities and structures to engineering troops in support of combat activities, and during natural disasters when there is a need for immediate action to save lives and property.
The self-propelled UDS 214 is a multi-purpose telescopic excavator with a large working radius and unique telescopic boom construction that allows a 14.6m reach in its basic configuration. The operator can control movement, turning and stabilization of the machine from within the cab, increasing work productivity and operability.
Five UDS Military Excavators were recently purchased by The Armed Forces of the Slovak Republic, who will ultimately replace all 30 machines used by the army during its modernization period.
"As a military manufacturer of excavators, we are ready to face new challenges in modernizing military equipment and meeting the demanding requirements of the Armed Forces, as evidenced by recent international agreements with leading defense giants such as Rheinmetall Germany, IVECO Defense Vehicles Italy, Plasan Israel or BEML in India. The development of joint projects on 6×6 and 8×8 car chassis moves the company CSM with its UDS and Slovakia back among the major players in the defense industry" said chairman Tomáš Maroš at the IDEX opening ceremony.
Minister of Defense Slovak Republic, Mr. Jaroslav Na, commented "The leadership of the Ministry of Defense perceives the need to support both existing and new capabilities of the Armed Forces of the Slovak Republic within the domestic crisis management, including equipment deployed in floods or other crisis situations. Our soldiers have shown their readiness to help wherever it is needed, and our goal is to provide them with everything they need for it – quality conditions, preparation, and also reliable technology, which we will continue to continue"