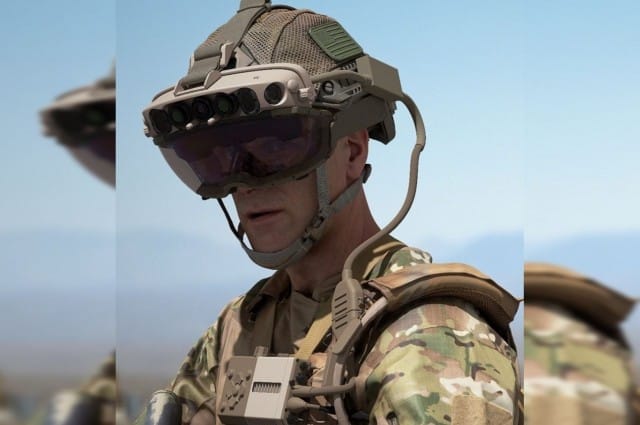 The U.S. Army has finished a number of field exercises that have been conducted since Oct. 18, testing out its next generation goggle in a hard-wearing military version that soldiers could see as early as next year. Soldiers and Marines ran the Integrated Visual Augmentation System (IVAS) through a series of demanding and challenging company-sized training missions.
Participants from the 82nd Airborne Division and a contingent of Marines conducted company-size training events using the first militarized prototype of the IVAS. Events included land navigation, live fire, mission planning, rapid target acquisition, trench clearing, after action review using augmented reality, and more.
IVAS is designed to enhance the lethality and survivability of the Army's Close Combat Force through a combination of technologies and augmented reality capabilities delivered in the form of a Heads-Up Display device, much like the famed HoloLens developed by Microsoft, which is, in fact, partnering with the Army to develop and produce the system.
It's a single platform that allows the Soldier to fight, rehearse, and train, because it leverages networked information sharing and mixed and augmented reality technologies.
Team IVAS employs a Soldier Centered Design methodology that involves Soldiers at every step of the process, from design to development, thereby reducing the traditional 10-year acquisitions timeline to roughly 28 months and eliminating the historical probability of fielding a system Soldiers reject.
The program, which remains on track to deliver the first IVAS in the fourth quarter of FY21, is funded through Other Transaction Authorities (OTA) and Middle Tier Acquisition Rapid Prototyping authorities to accelerate the development process by more than four years as compared to the DoD 5000 process.
Last month, Undersecretary of Defense for Acquisition and Sustainment Ellen Lord hailed IVAS as an example of success. During a Pentagon briefing Oct. 7, Lord said: "… the MTA pathway incentivizes powerful behaviors across the acquisition enterprise to quickly restore the Army's advantage in individual situational awareness, navigation, communications, and target acquisition."
IVAS has been praised for its ability to pair up to the Family of Weapons Sight – Individual, giving the warfighter the ability to acquire a target from behind the relative security of a corner or an obstacle using the aided target acquisition capability.
The system also assists with mission planning and advanced battle tracking, including being able to see an entire platoon projected on a map, a critical advantage for a platoon leader.