Danish subsea engineering specialist EIVA a/s has been awarded a contract by the UK Ministry of Defence (MOD) for the delivery of a EIVA ScanFish L, a containerised remotely operated towed vehicle (ROTV) solution.
When delivered, the ROTV will be integrated into the Royal Navy's seabed warfare system of systems and be capable of operating from different host platforms.
"We are thrilled to have been awarded this contract by the UK MOD and to be delivering capability for the Royal Navy," said Flemming Hjorth, Acting CEO of EIVA. "We are excited about this opportunity to continue to provide our expertise in the defence market. We have been working in partnership with Forcys, a global maritime defence company and EIVA's sister company in Covelya Group, to market the system to allied nations. It's a great tool to enhance our customers' seabed warfare capabilities and the protection of critical maritime infrastructures."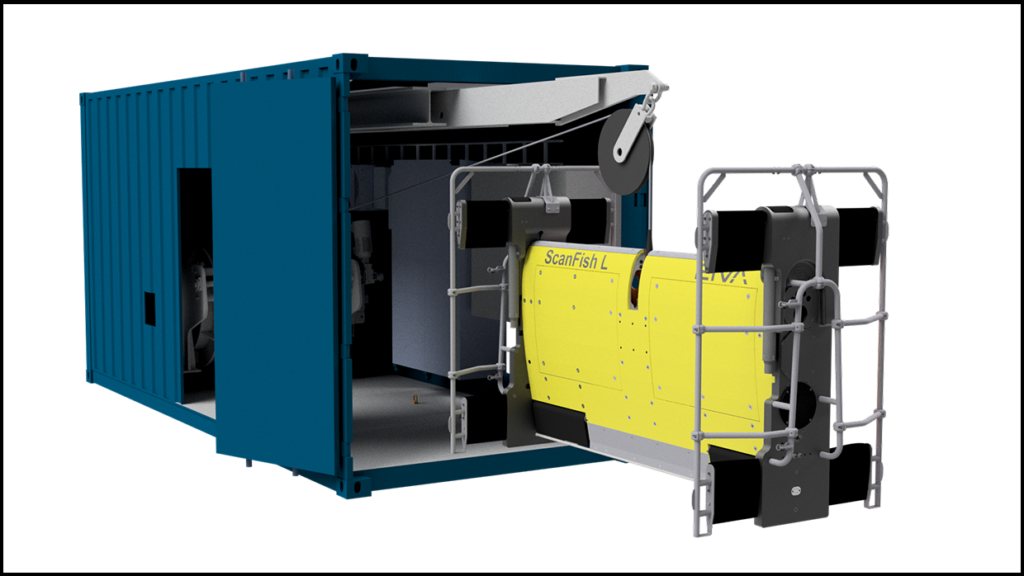 The Containerised ROTV Solution
Providing integrated and enhanced operational capabilities for the Royal Navy, as part of the contract, EIVA will deliver a fully equipped 20′ Cube container module and launch and recovery system, supplied by SH Defence, part of SH Group.
The ScanFish L ROTV will be equipped with multiple sensors, including but not limited to Sonardyne's SPRINT-Nav Mini hybrid INS/DVL and Voyis' Observer Pro optical camera and Insight Pro laser scanner.
The system will also benefit from EIVA's NaviSuite software for efficiently processing and analyzing the collected data.
The presence of two dedicated workstations within the container will ensure the system's full operational capability and independence of employment, as there is no need to be plugged into the military ship Command & Control (C2) system.
The system will enable the simultaneous operation of multiple acoustic survey sensors and instruments and be able to operate beyond the continental shelf. Capable of performing various functions, these include, but not limited to:
Pipeline inspection
Large area searches and mine countermeasure (MCM) operations
Site surveys and seabed mapping
Cable route surveys
High-resolution object detection
Oceanographic data collection through the water column
"As a former navy officer, it is a true privilege to contribute to the Royal Navy's mission. We eagerly anticipate seeing our ScanFish ROTV in action, performing a wide range of tasks from MCM operations to underwater cable and pipeline inspections." commented Cdr ITA-N (Ret'd) Antonio J. Belfiore, EIVA's Business Development Manager for Defence.