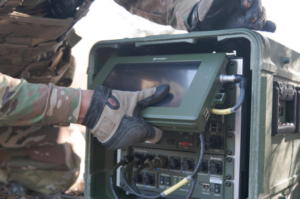 In this whitepaper, MilDef explains how its rugged 19"/2 suite of C4 products can facilitate distributed operations.
A single kit of modular electronics that can operate in a ground vehicle, in an amphibious vehicle, and shipboard is of great benefit to the future of distributed operations.
MilDef developed the 19"/2 suite of small form factor electronics to answer both the functional and environmental challenges of distributed military operations.
By occupying only one-half width of a standard 19" rack, 19"/2 products create up to 75% more space in racks, and enable greater mission flexibility within a common Operation Transit Case (OTC) stack. These 19"/2 solutions are just as easily reconfigured to/from vehicle-mounted solutions into man-portable OTCs for Points of Presence (POPs) and Command Posts. The smaller footprint and modular components result in fewer racks and transit cases required to support a mission.