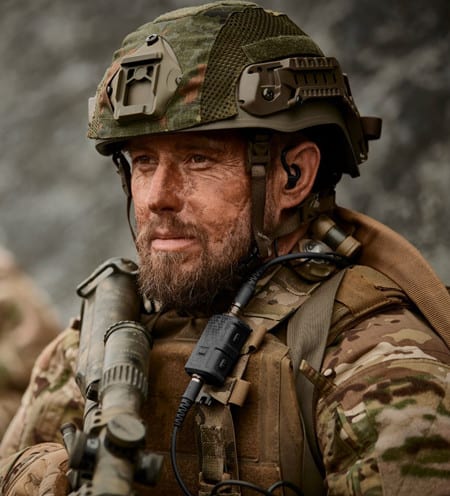 Thales has been awarded a contract from the Austrian Ministry of Defense to supply more than 2,500 SquadNet tactical radios as part of the Austrian Army's digital transformation.
Thales believes that with the constant evolution of threats in today's world, maintaining contact on the modern battlefield is key to effective combat operations. Sending and receiving the right information at the right time is critical, meaning communicating in challenging environments demands resilient and trusted solutions. According to Thales, this is where SquadNet comes in.
Combining a unique networking waveform with built-in GPS, Bluetooth and programmable encryption, SquadNet provides reliable, secure critical communications capabilities, in a cost effective way with class-leading size, weight and power.
Chris Edwards, Managing Director Secure Communications & Protection, Thales in the UK, said: "I am delighted that Thales in the UK have secured this export contract for SquadNet Radio, and I am thrilled for our hardworking team, suppliers and partners that design and manufacture this great capability here in the UK. The Austrian Army is serious about their digital transformation and their selection of this radio with a unique networking waveform and programmable encryption capability means that they are moving firmly in the right direction."
This project with the Austrian MoD is the second significant European order after a win in Belgium, and strengthens Thales's position in the European soldier radio market.
SquadNet is a software-defined soldier radio, and signifies a step change in military digitalization:
It is small, lightweight, easy-to-use and has an autonomy of 24 hours, making it ideal for the dismounted soldier
It provides secure voice, location reporting and data-sharing options
It is equipped with latest-stage battlefield software system SABRE, which allows users to view the location of all team members overlaid on a map, and to communicate target data and other points of interest including navigational information
It includes battery charging and radio programming capabilities
Due to its automatic relaying mode and environment resilient waveform, the SquadNet soldier radio ensures that communication is seamlessly maintained in the harshest propagation conditions across urban, wooded and mountainous terrain, enabling collaborative combat throughout the battlefield. Precisely what is required to keep soldiers on the ground operating efficiently.
Hannes Boyer, CEO & Country Director for Thales in Austria, added: "With Thales SquadNet, the Austrian Armed Forces will be one of the first European countries to have a highly modern software-defined radio system with full digital signal processing in use, thereby reaching technological leadership in the field of tactical communication. As a trusted partner, Thales is very pleased to support the Austrian Ministry of Defence in the modernization and digitalization of their armed forces."
Find suppliers & manufacturers of Manpack Radios for Military & Defense >>