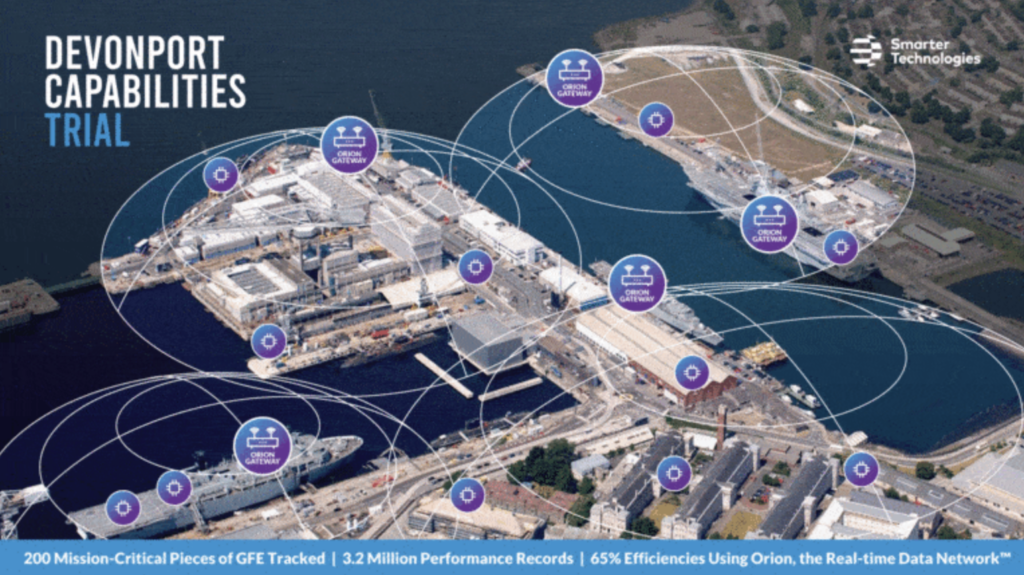 British provider of Internet-of-Things (IoT) solutions Smarter Technologies has successfully completed a capability trial at His Majesty's Naval Base (HMNB) Devonport on behalf of the UK Ministry of Defence (MoD).
The company used its proprietary Orion IoT Data Network to track mission-critical Government Furnished Equipment (GFE), improving effective asset management, mission assurance and operational efficiency.
Through this trial at HMNB Devonport, the largest naval base in Western Europe, the UK MoD wished to test how modern technology could increase operational efficiency and effectiveness, save money and point the way to other asset-management opportunities.
Smarter Technologies was short listed for the trial via the UK Government's Digital Marketplace and won the contract in an open tender using the Crown Commercial Services G-Cloud 12 Framework. This is a simple and effective procurement process that speeds delivery, is well-suited to SMEs and enables customer benefits to be realized quickly.
The UK MoD selected 200 mission-critical pieces of GFE to be tracked, including large mobile waterfront assets such as Yokohama fenders, brows, pontoons, mobile cranes and WISE hoists. The trial also included specific tasks to facilitate the gathering of data to evaluate the system's performance.
In just one day, Smarter Technologies had installed 14 of its Orion gateways, providing network coverage across the 650-acre site, before fitting Orion GPS tracking tags to selected equipment. The company worked with UK MoD experts to ensure all necessary approvals and clearances were met for use in close proximity to common military hazards such as fuel and other MOD electronic systems.
The 15-week trial captured over 3.2 million performance records using real-time data available to view remotely 'on demand'. A key operational benefit found from using Orion to support GFE management during the trial was efficiencies of 65.66%, most notably evident in time saved on completing physical checks. For example, the average time taken to physically locate and check items was reduced by over two thirds when using Orion, and all assets were visible in near-real time (every 30 seconds), via the platform. Feedback from MoD users reported the system was intuitive to use and enabled quick access to critical asset data via Orion's cloud-based technology.
Other enabling benefits of the system included the ability to monitor contractor performance as well as the ability to capture trends in equipment and fleet utilization. This contributed to better contract oversight and accountability, greater intelligent GFE planning and improved logistic efficiency. Users were particularly impressed by the range, signal penetration, power efficiency and reliability of Orion, which is a low power ultra-narrow low band 433 MHz UHF radio system.
"Smarter Technologies have been leading the way in complex, high-value and global asset-tracking solutions for years – our solutions are tried and tested," said Matt Walker, Product Manager for Orion at Smarter Technologies. "This trial is an excellent example of Orion's versatile capability. It is well-suited to a large and complex estate, such as Devonport, and provides the data insight needed to improve logistics and save money."