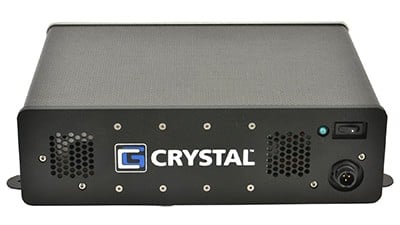 Crystal Group, has announced the launch of several technologies to be unveiled at AFCEA WEST 2020. The solutions are primed for demanding deployment environments and evolving defense operations facing multi-domain adversaries.
The 2020 conference theme, "Are We Ready to Confront Great Power Competition?" serves as a catalyst for mission-critical collaboration and innovation. As WEST reliably demonstrates, industry partners are crucial to helping the Department of Defense act swiftly and decisively to protect national security and defend on land, at sea, in the air, in space and in cyberspace.
"Crystal Group's rugged, multi-layer, CSfC-ready solutions enable secure, real-time data handling necessary for defeating threats in forward-deployed environments," said Kate Helle, U.S. Navy program manager at Crystal Group. "WEST is the key platform for critical dialogue, collaboration and demonstration of the tools and capabilities that deliver the decisive advantage. We're proud to be part of this forum again in 2020."
At AFCEA WEST 2020, the company's experts will be demonstrating the latest capabilities designed to help warfighters dominate the transforming threat landscape, including:
Crystal Group's solutions, including debut technologies, will be displayed at booth #1635, giving visitors an up-close look at how the Iowa-based company provides Department of Defense customers with American-made products that enhance readiness, lethality and the military prowess required to dominate the evolving Great Power Competition.
With more than 10 billion hours of military operational service, Crystal Group's products demonstrate proven reliability and high performance on more than 600 military programs, including over 15,000 rugged servers deployed to the Navy since 2008. Designed with punishing maritime environments and cyber protection in mind, Crystal Group anticipates and eliminates common risks and restrictions via custom compute systems fortified to withstand extreme temperatures, shock, vibration, sea spray and salt fog.