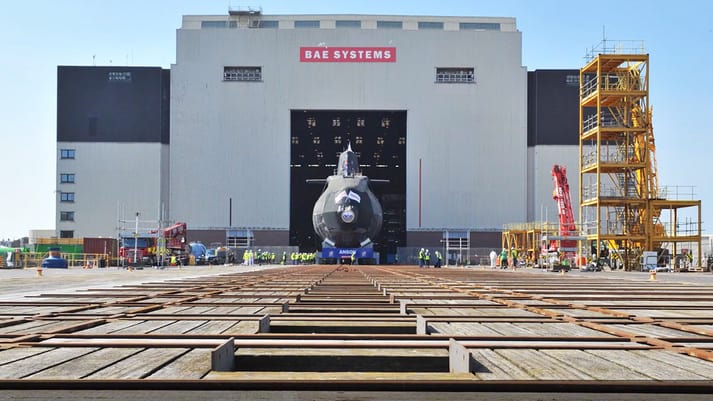 The U.K. Ministry of Defense (MoD) has awarded BAE Systems a £85m contract to support early design and concept work on the Royal Navy's next generation of submarines.
The contract will enable BAE's Submarines business to progress the early stages of a program to deliver a replacement for the Astute class, helping to sustain the U.K.'s future underwater military capability and support 250 highly-skilled jobs in Barrow-in-Furness, Cumbria, U.K.
"Marking the start of a new journey in submarine development, British designers and engineers will lead the way in building submarines for our Royal Navy," said Ben Wallace, the Secretary of State for Defense.
"This multi-million pound investment ensures that this vital capability will be ready to replace our Astute class submarines as they come out of service, whilst supporting high-skilled jobs across the Midlands and North West of England."
The contract has been awarded following approval of a three-year Program, Definition and Design phase for a capability solution for the MoD's Maritime Underwater Future Capability (MUFC) program.
BAE Systems will work alongside the SDA, Rolls-Royce, Babcock and partners on a new class of nuclear powered attack submarines for the U.K. Royal Navy to replace the Astute class – currently referred to as SSN-Replacement (SSNR).
Four of the seven Astute submarines have already been delivered to the Royal Navy, while the remaining three are at an advanced stage of construction at BAE Systems' site in Barrow. BAE Systems is also a member of the Dreadnought Alliance and, working alongside the SDA and Rolls-Royce, is leading the design and build of a replacement for the Vanguard class. Build of the first two of the four new Dreadnought class submarines is well underway in Barrow.
"We're very proud of our role in the delivery of the nation's submarine fleet and this contract further builds on our rich heritage," Steve Timms, Managing Director of BAE Systems' Submarines business, said.
"In what is the 150th anniversary year of our Barrow shipyard, we now have the opportunity to further strengthen our partnership with the Royal Navy long in to the future. We're looking forward to working with our partners and helping to deliver another strategically important and critical national defense program."