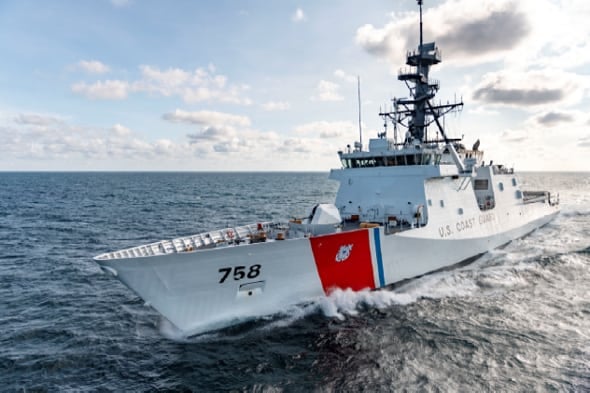 Sensor solutions provider HENSOLDT is equipping the US Coast Guard's "Legend" class National Security Cutter (NSC) with its TRS-3D multi-mode naval radar. 
The US Coast Guard awarded HENSOLDT a follow-on contract to deliver a further radar in its latest 'Baseline D' version, to be installed at the Coast Guard Training Center (TRACEN).
HENSOLDT has previously delivered 12 radars to the US Coast Guard's NSC program.
The TRS-3D Baseline D, with the US designation AN/SPS-75, utilizes gallium nitride (GaN) and solid-state emitter technology to deliver traditional TRS-3D robust performance while improving reliability and options for future development.
HENSOLDT's TRS-3D radars have been aboard every NSC since the program's inception. TRS-3D is a three-dimensional, multi-mode naval radar for air and surface surveillance, target acquisition, self-defense, gunfire support and aircraft control.
The radar automatically detects and tracks all types of air and sea targets, alleviating crew workload requirements.
"With more than 50 radars in service with Coast Guards and Navies worldwide, our TRS-3D naval radar has proven itself," HENSOLDT CEO Thomas Müller says. "We are making sure that our customers capitalize on continuous technology enhancements."