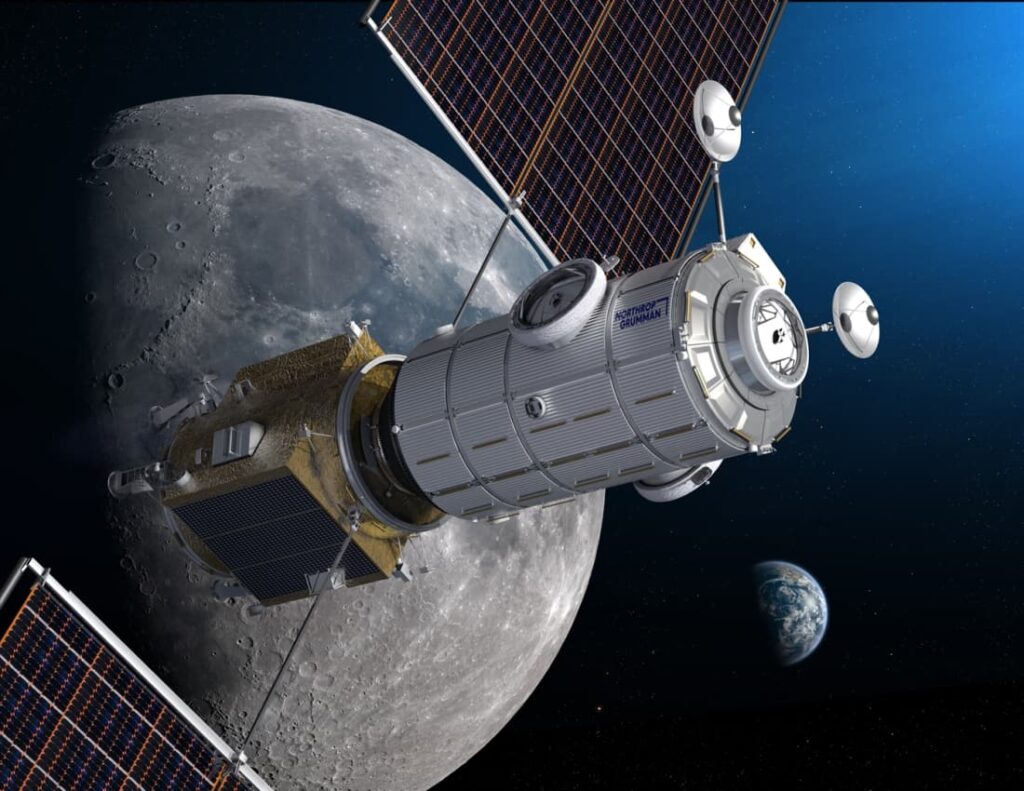 Thales Alenia Space has signed a contract with Northrop Grumman to develop the pressurized module for HALO (Habitation And Logistics Outpost) that will be one of the first two elements to form the lunar Gateway which will be launched in late 2023.
The HALO is planned to be launched together with the Power and Propulsion Element (PPE) and will be the initial habitat for astronauts visiting the Gateway. Its primary purpose is to provide basic living space for astronauts and prepare for their trip to the lunar surface. It will provide command, control and data handling capabilities, energy storage and power distribution, thermal control, communications and tracking capabilities. It will be equipped with 3 docking ports for visiting vehicles and future modules, as well as space for science and stowage. With NASA's Orion spacecraft docked, it will be able to sustain up to four astronauts for up to 30 days as they embark on, and return from, expeditions to the lunar surface.
Thales Alenia Space will be responsible of the design and manufacturing of the HALO primary structure (the pressurized module), the module and vestibule pressure control, part of the meteoroid protection system as well as the structure interfacing the NASA docking systems.
The HALO design is derived from Northrop Grumman's Cygnus spacecraft, which Thales Alenia Space is a longstanding partner on. Cygnus is a human-capable vehicle that delivers supplies, spare equipment and scientific experiments to the International Space Station with 14 successful missions to date. HALO will have the same 3m diameter as Cygnus, but will include a 1m stretch in length to meet habitable volume needs for visiting crews, bringing the total HALO length to about 7m. HALO will also benefit from the heritage of the Cygnus Pressurized Module design and production process already in place.
"It is a great, fantastic challenge to again be part of the amazing adventure of moving back to the Moon – in particular paving the way of the lunar outpost by being involved in one of the first 2 Gateway elements to be launched, in addition to providing the European contribution with ESPRIT and I-HAB", said Massimo Claudio Comparini, Senior Executive Vice President Observation, Exploration and Navigation at Thales Alenia Space.
Walter Cugno, Vice President Exploration and Science Domain at Thales Alenia Space added: "By leveraging the active Cygnus production line and flight proven expertise, Thales Alenia Space will bring to Northrop Grumman the unique capability of providing an affordable and reliable HALO module in the timeframe needed to support lunar exploration. This more than 10-years success story, as well the strong Thales Alenia Space expertise in deep space habitats, will allow us to design and manufacture this new lunar Gateway module in the respect of safety and comfort for the astronauts".