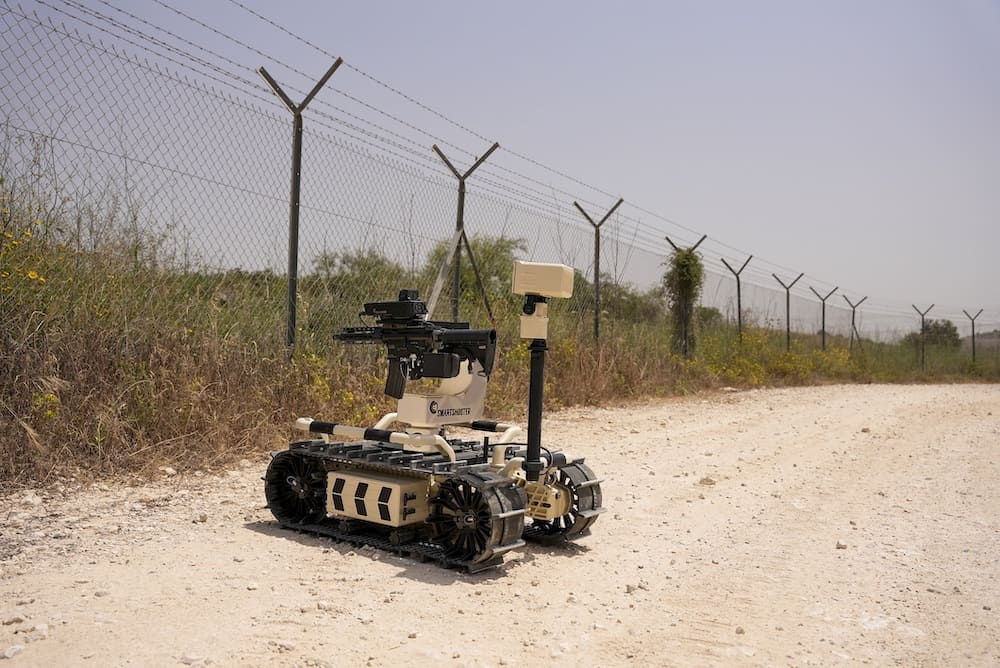 Roboteam, a global provider of tactical ground robotic systems, and SMARTSHOOTER, a designer, developer, and manufacturer of innovative fire control systems, have unveiled a tactical ground robot that utilizes the SMASH technology to ensure precise hit capabilities as well as air defense against drones.
A highly mobile, all-weather system capable of operating in any terrain, Roboteam's Transportable Interoperable Ground Robot (TIGR) is a medium-sized, two-man carried Unmanned Ground Vehicle (UGV). Incorporating SMARTSHOOTER's SMASH Hopper, a Light Remotely Controlled Weapon Station (LRCWS) with pin-point accurate lethal capability, the integrated solution enhances tactical forces' lethality and survivability by providing them the ability to hit ground, aerial, moving or stationary targets from a safe stand-off distance.
Lightweight, with high maneuverability and stair-climbing ability, this solution is ideal for urban scenarios, border control, subterranean and other tactical, operational missions.
SMARTSHOOTER and Roboteam claim that this is just one example of the various possible integrations of their products. Platform agnostic, the SMASH Fire Control Systems can also be integrated into Roboteam's other innovative robotic solutions, such as the ROOK Multi-Purpose Robotic UGV and PROBOT Lightweight Heavy-Payload Robot.
"The implementation of the SMASH technology to Roboteam's tactical UGVs robots is significantly extending the operational capabilities of our products: adding lethality in its safest operational mode while keeping to both companies' sacred mission of protecting the lives of combat troops and law enforcement personnel at the most challenging combat scenarios," said Uzzi Rozzen, Roboteam CEO.
"Rifle mounted, remotely controlled, robotic, UGV or UAV mounted, the SMASH technology can be integrated onto different platforms according to customer's needs," said Michal Mor, SMARTSHOOTER CEO. "We are honored to collaborate with Roboteam, and present this unique armed robotic solution that offers unlimited opportunities for the operating force."
The solution will be presented at Eurosatory 2022, 13-17 June, on both Roboteam's booth, Hall 5B Booth A358, and on SMARTSHOOTER's booth, Hall 6 Booth C680.