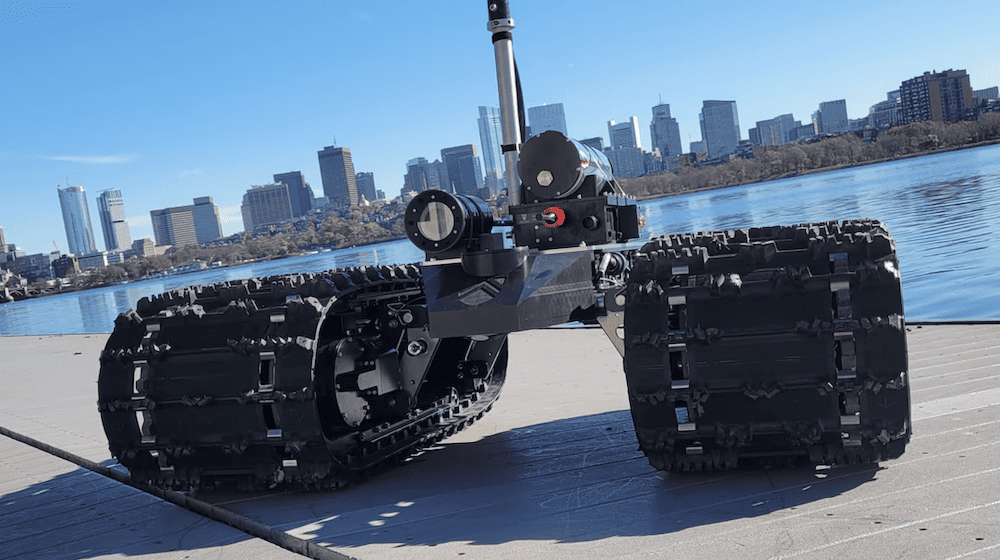 Marine robotic software solutions provider Greensea Systems, Inc. will showcase its advances in using AI for data collection and evaluation in subsea robotics for defense applications at Combined Naval Event 2023, the flagship naval and maritime exhibition taking place 23-25 May in Farnborough, UK. 
According to Greensea, this is just one element of a wide-ranging spectrum of capabilities of untethered, autonomous ROV operation that the company delivers, and will be discussing during the event.
Representatives will also be on hand to discuss Bayonet Ocean Vehicles' new line of vehicles for work in the surf zone. The Bayonet 150, 250 and 350 are amphibious Underwater Ground Vehicles (UGVs) that are built on OPENSEA, Greensea's open architecture which brings true autonomy to marine robotics vehicles, and allows for easy fitting of sensors and payloads to accommodate military applications.
This military-focused event comes after Greensea's successful completion of a demonstration of its untethered autonomous ROV operation utilizing the company's Safe C2 remote, over-the-horizon command and control capability, that took place off the coast of San Diego, CA in April.
This technology is being developed under a DIU contract awarded in late 2021 for an Autonomous EOD Maritime Response Vehicle (AEMRV). As part of the contract, Greensea and Seebyte collaborated, pooling their intellect and experience to develop an ROV with integrated Automatic Target Recognition (ATR), to detect and classify objects, in support of Explosive Ordnance Disposal (EOD) missions.
The most recent demonstration included the ROV operating in fully autonomous, untethered mode, to further support underwater defense and security with remotely operated activities of identifying and neutralizing subsea threats, including but not limited to seabed warfare and counter terrorism measures.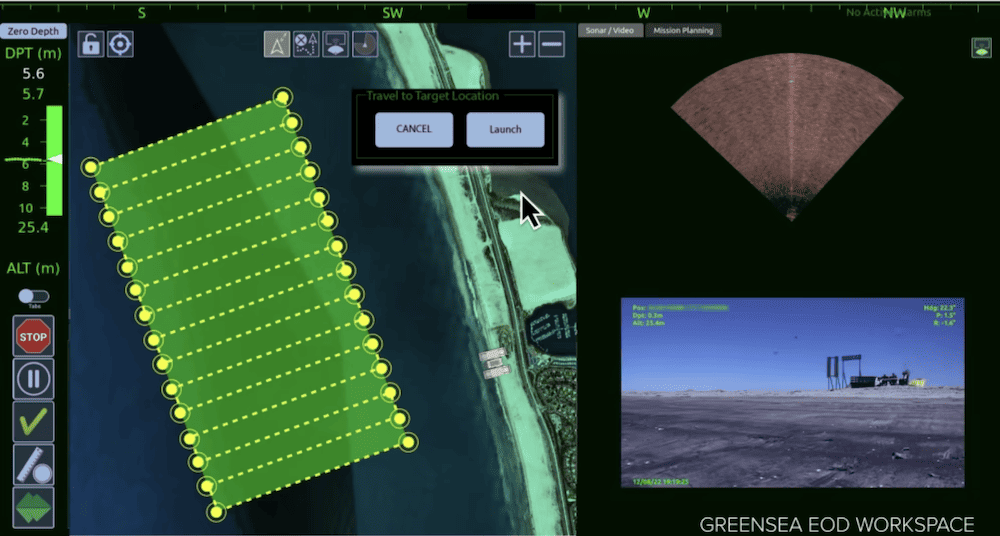 Greensea successfully conducted a detect and engage mission, powered by OPENSEA Edge, the software solution putting the processing power onto the robotic hardware, reducing the need for data feeds to transition from vehicle to operator. The requirement was to demonstrate the ability to complete an end-to-end mission, including operator mission planning, vehicle launch, search, detection, localization and classification of Mine Like Objects (MLOs).
Greensea's latest technology for underwater defense and security includes:
OPENSEA Edge; Greensea's open architecture brings true autonomy to marine robotics vehicles. Built on OPENSEA, the standard in open architecture operating systems for ocean robotics, and installed on over 3,000 marine vehicles and systems worldwide, OPENSEA Edge places the computing power closer to the data, to make the exchange to the user more efficient.
Flexibility and scalability allow for integration with third party software, as well as scope for additional sensors.
Effective over-the-horizon communication through Greensea's Safe C2, regardless of bandwidth and latency, allows the ROV operator to be located in any location, whether at sea or on land.
Tetherless operation is made possible through combining navigation, acoustic modems, over-the-horizon command and control, and onboard power.
Full ATR libraries for increased perception to enable object detection, identification, and classification.
EOD Workspace is Greensea's human-machine interface that combines vehicle control and navigation, payload sensors, as well as diagnostics and data management within a single screen, allowing human operators wider situational awareness than they have ever had at their fingertips before.
The EOD Workspace Simulator provides a powerful training tool to develop and maintain user skills anywhere, at any time, without the cost and logistics of taking a vehicle from its operational activity solely for training purposes.