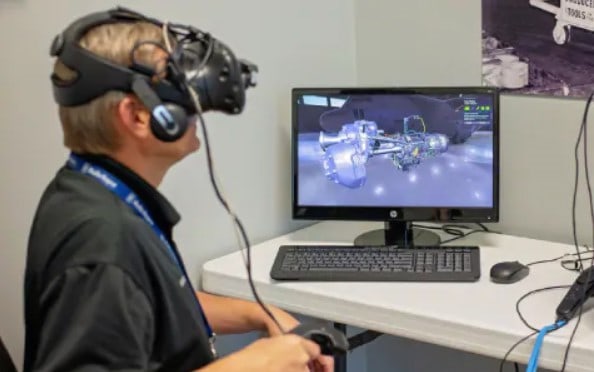 Rolls-Royce has developed virtual reality (VR)-based maintenance training software for the company's AE 2100 engines, which are used to power C-130J military transport aircraft such as those currently in service with the U.S. Air Force. The system will allow engine maintainers to learn and practice their skills in an immersive visual environment, increasing efficiency and reducing cost.
The software enables students and instructors to practice on a virtual AE 2100 engine, entirely replicated in form and function. The virtual environment allows users to 'learn by doing,' increasing their recall by completing multiple repetitions and enhancing knowledge retention via the use of kinesthetic active learning. Overall, the training improves student engagement and enhances troubleshooting skills, and also provides networked learning that enables multiple individuals to train simultaneously from around the world.
The first training system is due to enter service with the U.S. Air Force at Kirtland Air Force Base in New Mexico. The 58th Maintenance Group (MXG) is part of the 58th Special Operations Wing housed at the base. The wing flies HC-130J and MC-130J aircraft, and operates within the Air Force Air Education and Training Command.
U.S. Air Force Col. JB Baquet, the 58th MXG Commander, believes that the innovation will enhance the evolution of training. He said: "We must transform the way we learn. The VR maintenance system will enhance training efficiency, shorten the learning curve, accelerate skill levels, and improve fleet readiness."
Paul Craig, President of Defense Services at Rolls-Royce, commented: "Rolls-Royce offers many cutting-edge digital services to our military customers, and the new Virtual Reality Maintenance Training Software for C-130J engines is the latest example. The new VR software will reduce training and travel costs for maintenance crews, while enhancing their learning skills and retention. We are excited to launch this new VR training system with the U.S. Air Force's 58th Maintenance Group at Kirtland Air Force Base."
Air Force Master Sgt Joe Muscarella, 58th MXG Lead Production Superintendent, stated: "The system allows maintainers to virtually remove, examine and replace AE 2100 engine components without risk of damage to the equipment, an engine, or personnel injuries. Maintainers can safely train and practice anytime, anywhere, and gain hands-on experience without any mission disruption. We can also gain a better understanding of engine operations, performance parameters and component removal, as well as well as installation practices and procedures."