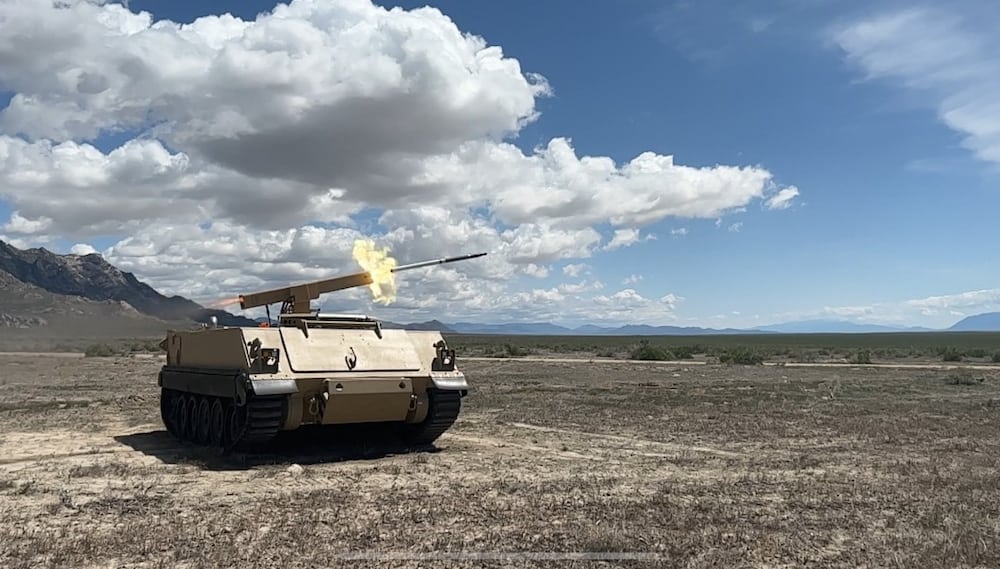 BAE Systems demonstrated the capability of its Robotic Technology Demonstrator (RTD) by successfully firing Advanced Precision Kill Weapon System (APKWS) laser-guided rockets at multiple ground targets, with a human decision in the loop, during the US Army's tactical scenario at the EDGE 22 exercise at Dugway Proving Ground.
This test firing marks the first time an APKWS laser-guided rocket has been fired from a Robotic Combat Vehicle (RCV).
Multi-mission capable, the autonomous RTD meets the Army's needs for an RCV medium solution. It has a commercially-proven hybrid electric drive and can be equipped with various advanced payloads such as electronic warfare sensors, various gun systems, anti-tank guided missiles and 2.75" rockets with BAE Systems' APKWS laser-guidance kit. The vehicle also can be fitted with loitering munitions to defeat armored and unmanned aerial threats.
"Over the past year, we've partnered with leading technology companies to build an autonomous vehicle that will exceed the Army's RCV medium requirements," said Helen Park, Future Tech Works director at BAE Systems. "This successful demonstration proves that our unmanned vehicle can be integrated and updated with cutting-edge technology, payloads, and weapon systems to support multiple mission sets and deliver advanced capability in a multi-domain operational environment."
Ground-launched APKWS rockets provide mounted units with a unique capability to engage ground targets and Unmanned Aerial Vehicles (UAVs) at ranges up to six kilometers. This provides warfighters with a cost-effective solution for precision strike with greater range than small arms fire and without the need for air support.
Future Tech Works (FTX) is a new organization within BAE Systems that works closely with engineering experts and customers to identify, develop, and test solutions for the defense needs of the future. FTX reimagines the battlefield to modernize and deliver technologies that help keep service members safer, more agile, and ready to tackle any threat.
BAE Systems is investing in the future of battle to help the Army deploy the most capable RCV solution for current and future modernization needs. Work on this program is taking place in Sterling Heights, Mich.