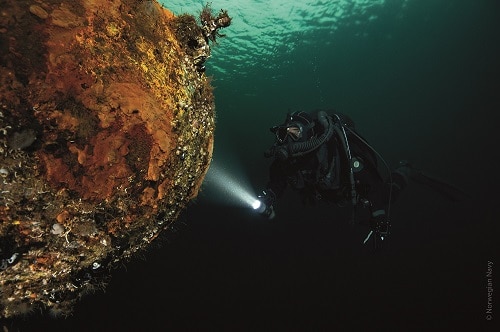 The premier maritime-focused exercise in the Baltic Region, Baltic Operations (BALTOPS), celebrated its 50th anniversary last month in the Baltic Sea. The exercise aims to enhance flexibility and interoperability among allied and partner nations to strengthen combined response capabilities to protect and defend the Baltic Sea region.
The Royal Norwegian Navy utilised the Avon Protection MCM100 rebreather throughout the BALTOPS exercise in numerous roles, successfully completing conventional mine countermeasures and search operations while employing both diver propulsion devices and heating systems. The MCM100 was able to sustain divers in missions lasting in excess of 3 hours.
The MCM100 is a state of the art electronically controlled, closed circuit, mixed gas military rebreather for mine countermeasures/Explosive Ordnance Disposal (EOD) and Special Operations diving.
Developed in collaboration with the U.K.'s Defence Science & Technology Laboratory (Dstl) and the Royal Norwegian Navy, the MCM100 is designed to excel in both shallow and deep water military diving applications.
The BALTOPS exercise demonstrated to the NATO diving community the MCM100's operational capability, reliability and robustness.