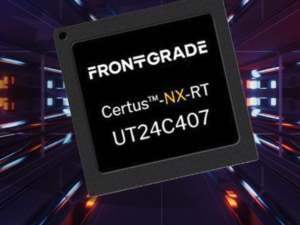 Frontgrade, a provider of mission critical electronics for aerospace and defense, and Lattice Semiconductor Corporation (LSCC), a low power programmable FPGA supplier, have collaborated to launch radiation-tolerant Lattice FPGAs for space and satellite applications.
This has enabled Frontgrade to provide next generation on-orbit radiation tolerant reconfigurable processing systems for future satellite constellations.
"This is an exciting time for Frontgrade and we are pleased to announce that Frontgrade has officially completed radiation qualification and shipping flight grade parts for Certus-NX-RT, that will be a perfect fit for target missions requiring high reliability, radiation assurance and performance," said Mike Elias, President and CEO, Frontgrade.
The Certus-NX-RT is built on the award-winning Lattice Nexus platform delivering class-leading system bandwidth and power efficiency – consuming up to four times less power in comparison to similar devices.
The 28nm device features tin-lead (SnPb) solder balls using a radiation-tolerant, fully-depleted silicon-on-insulator manufacturing process. This small footprint, low-power device, has dedicated SERDES lanes supporting PCI express, 1.5 Gbps differential I/O and 192 I/O, including 118 wide range up to 3.3V.
This general-purpose FPGA has a wide range of applications including data translation, edge processing, I/O extension, telemetry gathering using the two built-in ADCs and analog comparators, power control, motor control, and more.
Frontgrade's fault-tolerant Gaisler-library (GRLIB) will complement Lattice's Propel library and Radiant debug design to offer an easy, intuitive and versatile design experience. The GRLIB suite of IPs will be available at the end of Q3 2023.
Frontgrade is currently qualifying the CertusPro-NX-RT, which has 96K logic cells and 7.3Mb of internal memory that will enable customers to load compact neural networks and provide additional processing capabilities. The device is expected to complete radiation qualification by Q4 2023.
Find manufacturers and suppliers of military-grade ruggedized FPGA modules and FPGA boards for defense applications>>