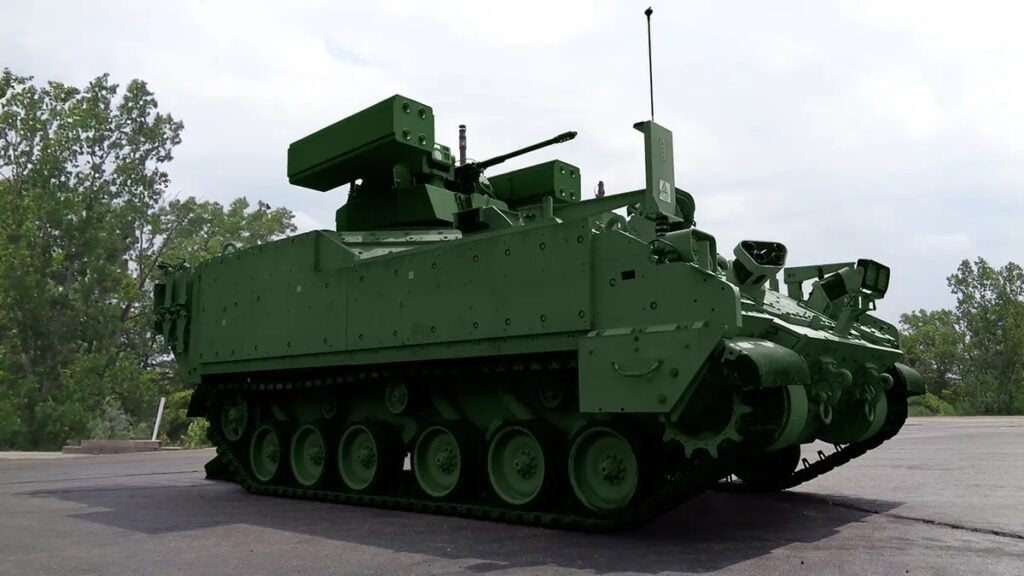 BAE Systems is featuring a prototype variation of the Armored Multi-Purpose Vehicle (AMPV) at AUSA 2023.
The AMPV Counter-Unmanned Aircraft System (CUAS) prototype, built on the same proven chassis as the existing variants in the family of vehicles, includes External Mission Equipment Package (ExMEP) enhancements that demonstrate the rapid integration of future technologies and capabilities onto the platform.
The prototype features the new ExMEP interchangeable top plate, which enhances the proven AMPV hull structure and provides flexibility to quickly integrate other mission equipment. This modular approach allows for the possibility of new turreted variants to the AMPV family of vehicles, to include CUAS.
The CUAS prototype features the Moog Reconfigurable Integrated-weapons Platform (RIwP) turret, which is common to the U.S. Army's Mobile Short Range Air Defense (M-SHORAD) system. The RIwP is a proven, modular, and scalable remote turret, which offers air defense, anti-armor, or multi-mission capabilities via precision medium-caliber and indirect fires. The CUAS variation also includes mission-ready command and control systems beyond what is available on the current AMPV fleet.
"The Armored Multi-Purpose Vehicle truly lays the foundation of the future of the battlefield for decades to come," said Bill Sheehy, BAE Systems AMPV program director. "We designed these vehicles with modularity and flexibility, providing an adaptable and ready-for-growth platform. Showcasing the art of the possible with the ExMEP enhancement and CUAS capability at AUSA is just the beginning of opportunities beyond the current family of vehicles. This vehicle will continue to provide the support Soldiers need in battle, no matter the mission."
The AMPV program was awarded a full-rate production contract in August 2023. As the underpinning of the future for the Army and its allies, the AMPV provides significant improvements in power, mobility, interoperability, and survivability for Soldiers.
The AMPV CUAS will be on display at Booth 925 at AUSA.
Find suppliers & manufacturers of Counter-UAS Solutions & Technology >>