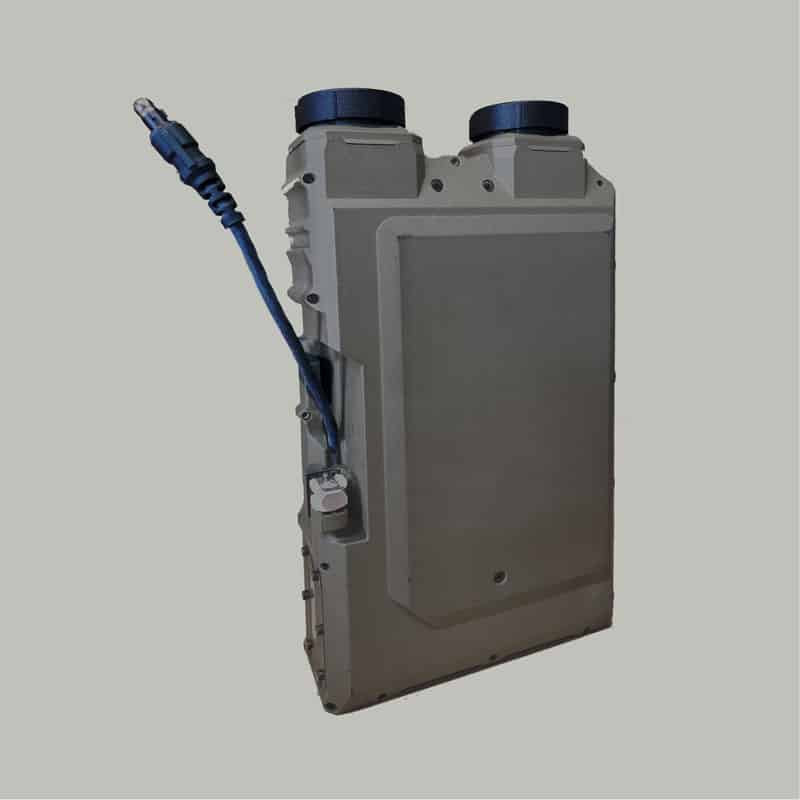 Advent Technologies has announced the launch of Honey Badger 50 (HB50), a compact portable fuel cell system and quiet power supply for use in off-grid field applications, such as military and rescue operations.
The HB50 power system can be fueled by biodegradable methanol, allowing near silent generation of up to 50W of continuous power with clean emissions. Designed for covert operations, HB50 can easily power radio and satellite communications gear, remote fixed and mobile surveillance systems, and laptop computers, along with more general battery charging needs.
HB50's unique design allows it to be used in soldier-worn configurations or operated inside a portable backpack or vehicle while charging batteries and powering soldier systems, while its thermal features allow it to operate within an ambient temperature range of -20C to +55C.
Aside from its optimized compatibility with Integrated Visual Augmentation System (IVAS) and soldier systems, Honey Badger can also power devices such as high frequency radios like the model 117G, as well as B-GAN and StarLink terminals. HB50's durability allows it to be easily deployed in challenging conditions and climates while supporting mission mobility for three to seven days without the need to re-supply.
Since Honey Badger's fuel cell technology can run on hydrogen or liquid fuels, the system can operate at a fraction of the weight of traditional military-grade batteries to meet the US DoD's evolving needs for 'on-the-go' electronics.
"While Honey Badger is currently only defense-related, we have developed industrial applications, such as M-ZERØ, based on its core technology. Defense-related projects are always important for developing breakthrough technologies before they become widely available and affordable within the broader market," said Dr. Vasilis Gregoriou, Advent's Chairman & Chief Executive Officer. "We expect that in the near future, we should see multiple applications for Honey Badger portable power fuel cells in sectors such as robotics, agriculture, drones, emergency operations, and hospitality like leisure and camping. We are proud of the work of our Silicon Valley-based team, and its vision for bringing to market unique fuel cells that can support several sectors and fuel sources."
The launch of Advent's portable power system coincides with the company's fulfillment of its first shipment order from the US Department of Defense (DoD). The order was specifically placed by the US Army DEVCOM C5ISR Center, with funding through the Project Manager Integrated Visual Augmentation System, which works to enhance the situational awareness capabilities of soldiers. This effort is awarded under a General Technical Services' prime contract under 'Next Generation Power Component Systems' to support defense mission requirements.
"We are honored and excited to support the US DoD in its vision for advanced electronics, electrification, and power generation capabilities in the field," said Ian Kaye, Advent's Senior Vice President of Product Development. "The Honey Badger 50 is a unique technology that can provide 65% of weight savings versus batteries over a typical 72-hour mission. The weight saving benefits increase further for longer missions. We have also initiated the process to receive approval for the testing of the system by other NATO allies."