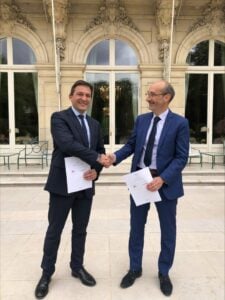 AERALIS has signed a Memorandum of Understanding (MoU) with France-based SDTS, for the exploration of light fast jet aviation services in France.
The MoU is designed to facilitate collaborative working to explore an aircraft service offering in the light fast jet defense market, targeting upcoming contracts in French defense operational training and combat air support roles. It also seeks to explore the opportunities across the French market for 'air support service' hours, identifying the requirement gap in quantifiable terms.   
The signing of this MoU signifies AERALIS' ambition in the French aviation market. A framework for future defense cooperation between France and the UK was agreed at a summit between Emmanuel Macron and Rishi Sunak on 10th March 2023. This MoU compliments the government's overriding ambition to further collaboration of UK and French defense capabilities over the course of the next decade.
SDTS has provided air service missions for operational training of the armed forces for many years. With more than 250 missions per year, SDTS has deployed its air assets and all its staff (pilots and aviation mechanics) for RED AIR missions, combined Air/Sea landing exercises, marine air defense controller training missions, and more to support the armed forces. Each mission is a custom-designed service.
"This partnership between AERALIS and SDTS is a great opportunity to develop a unique solution to meet the vast REDAIR needs of European Forces," said Emmanuel Pasqualini, CEO, SDTS. "The AERALIS' fast jet will allow SDTS to enhance its capacities in Commercial Air Training Services thanks to a new, versatile and up to date vector."
"AERALIS is delighted to have signed this Memorandum of Understanding with SDTS to evaluate opportunities in the light fast jet aviation sector in France, and we value SDTS' proven track record of providing air service missions for operational training of the armed forces," said Tristan Crawford, Founder and CEO, AERALIS. "AERALIS will continue to develop our relationships with key stakeholders in the military aviation market both at home and abroad."